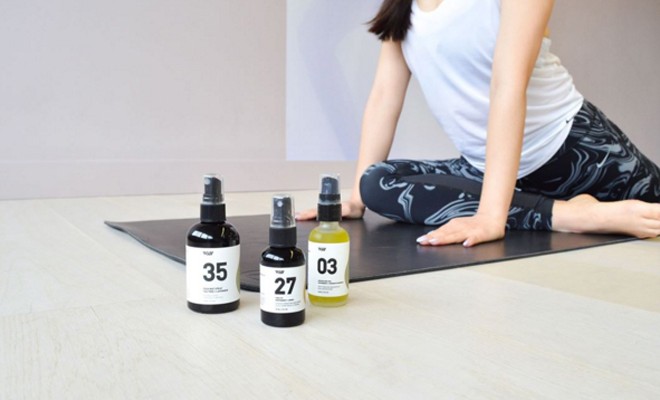 Aromatherapy can seriously work wonders whether it's to calm nerves, aid with sleep, or even in some cases, relieve any medical issues — the sense of smell is a powerful healing tool.
Not only that, essential oils can even help with muscle recovery, which is why we've been obsessed with the Way of Will 03 Soothe and Cool Massage Oil (a Choice item in the FabFitFun Summer Box). It's infused with peppermint essential oil, German chamomile essential oil, Jojoba oil, and more to not only soothe, calm, and improve the skin's hydration and elasticity, but also provide a physiological benefit for those who suffer from muscular pain and spasm. How's that for a multi-functional oil?
When scents are inhaled, Way of Will Founder, Willie Tsang explains, "the chemical components travel through the nose/mouth into the lungs and has a physiological effect on the respiratory system. At the same time, the scents of the oils also affect the limbic system, also known as the emotional brain."
And while your brain is recognizing the smell, the process can evoke strong emotions and memories. Not only that, the limbic system is also connected "to the parts of the brain that control heart rate, blood pressure, breathing, memory, stress levels, and hormone balance."
Check out all the other ways you can incorporate Way of Will into your daily life!
Lather it on post-shower. The Way of Will 03 Massage Oil uses sweet almond, apricot kernel oil, and jojoba oil to moisturize the skin and soothe muscle irritation. After you've showered, apply a few drops onto damp skin to begin healing those sore muscles. "When applied on the body, it promotes physical health, " says Tsang.
Apply before bed. Rub a bit of this on any problem spots before hitting the hay. The smell of peppermint and chamomile is sure to transport you into a state of relaxation so you can wake up feeling refreshed.
Sprinkle a few drops in the tub. If you're experiencing muscle pain all over from an especially intense workout, you can add a few drops of this stuff to your bath water for the ultimate pampering recovery session.
Try it out right before meditating. Ending your night with a little meditation or yoga can be incredibly restorative for your body and mind. After you've showered and applied the oil, try stretching or doing a mini yoga sesh before heading to bed!
Get a foot rub. After all, it's a massage oil, so use this lather your feet and work out all of the knots.
xx, The FabFitFun Team
P.S. Psst! Have you signed up for the #FabFitFun box yet? Don't miss out on $200+ in amazing beauty, fitness, fashion, and lifestyle products every season. Join today!
To get the most out of your box products, make sure to check out the Insider page.