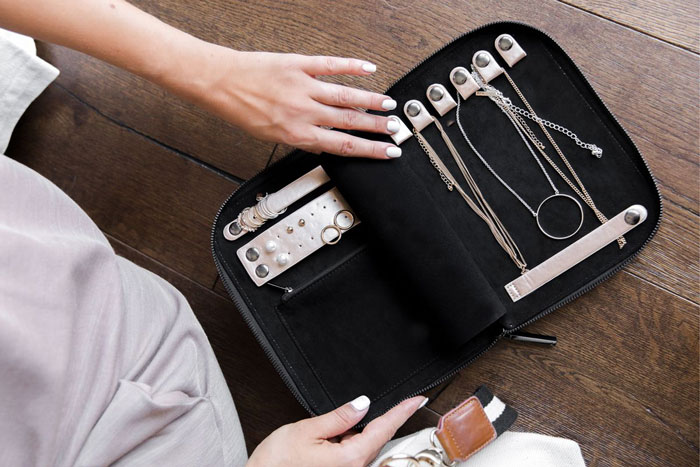 WINTER 2018 BOX PARTNER
Before you fill up your H HALSTON Jewelry Portfolio, take a look at all of your jewelry. Is your necklace tarnished? Are you holding onto earrings from five years ago? It's time to refresh your collection.
We asked Cameron Silver, fashion director of H HALSTON, to share his best tips and tricks on how to minimize your jewelry collection.
Renew, recycle, or let go
Go through all of your jewelry pieces and decide what can be renewed, recycled, or donated. "Give your outdated jewelry new life by turning a necklace into a statement broach or swapping out an old chain for something sleek and modern," says Silver.
Give your jewels a polish
After you've pared down your collection, it's time to make your go-to pieces shine. Silver notes, "Everyday household items like baking soda can make old pieces look brand new!"
Organization is key
Utilize jewelry storage, like the H HALSTON Jewelry Portfolio, to categorize rings, necklaces, and bracelets and to keep jewelry pieces from rusting.
xx, The FabFitFun Team
Psst! Have you signed up for FabFitFun yet? Don't miss out on $200+ in amazing beauty, fitness, fashion, and lifestyle products, access to exclusive fitness and cooking content on FabFitFunTV, members-only sales, and more. Join today!
To get the most out of your box products, make sure to check out the Insider page.