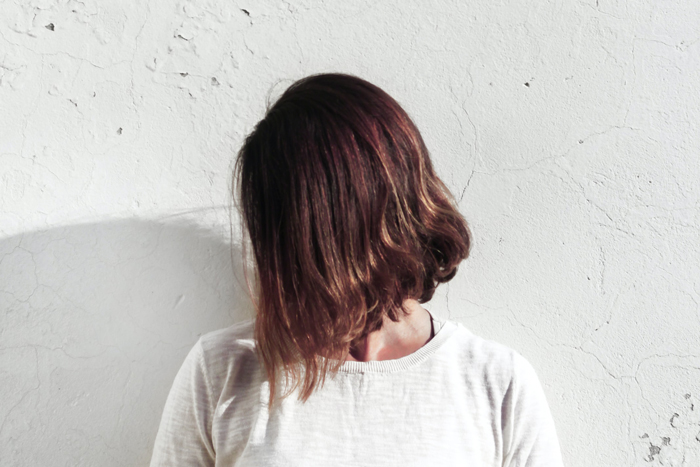 Feature Image by NordWood Themes
As we continue to stay indoors, our thoughts and concerns about caring for (and coloring) our hair are rightfully on our minds because a trip to the salon isn't looking likely anytime soon.
So to help ease your quarantine hair woes, we tapped expert colorists and stylists to answer all those burning questions you've got on the brain, whether it's about cutting your own bangs or if you really need that box color you've been eyeing online for a while.
Read on below to create your own quarantine hair cheat sheet to get you through the weeks to come.
How can I keep my hair healthy during this time?
Although worries of split ends and overgrown roots may be lingering on your mind, Ricardo Dinis, expert hairstylist, and Aveda global artistic director, haircutting, suggests that now is a great time to restore your hair's health. One way to do this is by using hair masks and conditioning treatments, which will help provide essential moisture to frazzled and dehydrated locks. "I like to use the Aveda Nutriplenish Deep Moisture Conditioner and leave it in for longer than usual in the hair," he explained. "Then, take a hot towel and place it around your head, this will allow for the moisturizing conditioner to soak into your hair and roots."
However, if you are looking to use some items from your pantry, hair colorist Elle Dawson recommends using ingredients like olive oil, coconut oil, and eggs to thicken and strengthen the hair. "Ingredients like olive oil and coconut oil make thick hair shiny and strong," Dawson said. "You could also do an egg white and lemon mask if you tend to have oily hair, as lemon helps to remove build-up, while the egg whites strengthen."
Should I wash my hair every day?
Even though it's easy to slip into those lazy habits, celebrity hairstylist Marshall Lin says it's still essential that you take good care of your hair and scalp. "Please remember to shampoo each and every time you leave the house," he tells FabFitFun. "The coronavirus can live on the hair, so it's extremely important to make sure it's cleansed thoroughly."
However, while washing is essential during these times, Dawson warns against over-washing your hair, as you won't want to cause any breakage. That's why he advises adding a conditioner into your routine to keep hair free of frizz, knots, and tangles. Dawson tells FabFitFun, "This helps keep your hair knot-free, and will also prevent hair breakage. It also helps control frizz while adding shine and volume to your locks."
Can I use box dye or bleach?
While adding some box hair dye to your online shopping cart may seem tempting, Dawson strongly warns against doing so, as this can actually do more harm than good. "Box dyes are not formulated specifically for you and your own unique needs," he tells FabFitFun. "If a box dye is applied and it is the wrong color and is too dark, removing the color becomes a correction that often requires extensive bleaching, which is not only damaging and time-consuming, it is also costly – starting on average around $300." To conceal your roots until the quarantine is lifted, Dawson suggests using root touch up sprays and different styling techniques to get through the weeks ahead without your colorist.
Similarly, Karissa Schaudt, colorist at Maxine Salon, tells FabFitFun bleach is a major no-no, as trying to bleach roots on your own (as tempting as it may be), can lead to a very costly and lengthy color correction if you aren't careful. "Do not self-bleach," Schaudt says. "It's a quick mistake, but not as quick to fix. It could take up to a year to color correct and can be very expensive."
Can I cut my own bangs?
The idea of growing out your bangs definitely sounds annoying, but unless you're an essential worker who is required to leave the house every day, celebrity stylist Annagjid Kee Taylor recommends avoiding this trim until we're on the other side of quarantine. However, if you can't wait, Taylor advises, "Make sure you get a pair of sharp shears and avoid using office scissors," she says. "This allows you to be much more precise as you cut, and won't cause any damage (yes, dull scissors can cause more harm than good!) to your hair."
What kind of hairstyles should I wear on Zoom calls?
For those looking to spend their time inside upping their styling game, Dinis suggests getting creative. "Braids are a great way to keep your hair down, and make it feel tame, calm, and dressed," he tells FabFitFun. "For those with overgrown hair, top knots with bangs is a great at-home look. You can also embrace ponytail looks, and tuck your hair behind your ears and utilize bobby pins to create messy, textured bobs."
If your roots are becoming a little too noticeable for your liking, Insert Name Here Hair co-founders Sharon Pak and Jordynn Wynn, suggest that now is a great time to take a wig for a test drive. These hair accessories provide you with a faux "root touch-up" and allow you to experiment with different lengths, styles, and tones. "Try wearing your wigs at home and on Zoom calls if your roots are becoming very noticeable," Pak and Wynn tell FabFitFun. "This is a great way to become familiarized with wearing them, especially if you are a beginner."
xx, The FabFitFun Team