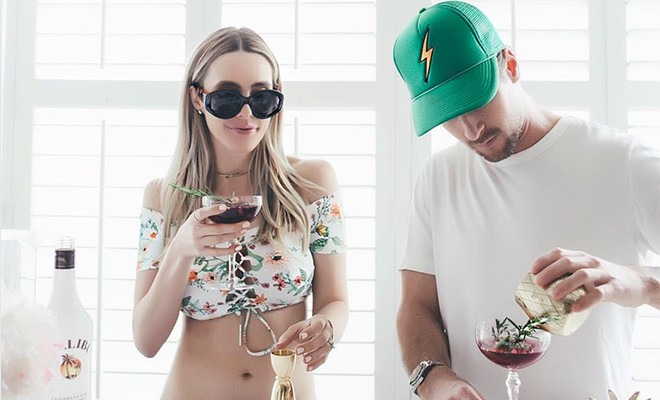 Michael and I have known each other since sixth grade, which means we've known each other for a pretty long time. Being in a relationship for that long we get asked all the time how we keep it fresh and interesting. There are a few things that Michael and I have found really works for us to keep it spicy inside and outside the bedroom. Whether you're in a romantic relationship or not, these tips will improve all of your relationships!
Open communication is incredibly important. You have to consistently check in with each other to make sure that they are happy. You can't be complacent and just assume that everything is fine. Really get to know your partner and figure out ways you can make them happier every day! It sounds simple, but it's powerful. The little things really do make all of the difference. I love when Michael leaves me a note in the morning. Hint, hint hunny.
Spend your time doing activities together. Michael and I are constantly looking for new activities to do together to keep it fresh and to learn new things side by side. Michael and I love to read and he always suggests the best books. I've gotten Michael to take all different kinds of yoga classes, we've tried cryotherapy, went skiing, worked out together, cooked, rode bikes, gone skydiving, walked our dogs, written, podcasted, and traveled. Whatever it is, doing and learning new things with your partner really strengthens the bond. We are even thinking about taking French classes together soon!
Keep the love life strong!!! Constantly compliment your partner. Tell them how good looking they are. Make an effort to keep it spicy. Introduce new things into the bedroom (whatever you want). When you first move in together, the sex can dwindle because of the close proximity. Don't get lazy, keep it spicy. If it feels like it's cooling down, it's time to try new things, unexpected things!
Travel! I know I always preach travel and I know it's not always easy to just up and leave but here's the secret: any type of travel works! Go on a road trip! Go camping on the weekend! Fly across the world! Go somewhere! Anywhere. Look at the cost as an investment in your futures. Whenever Michael and I travel together (even if I make fun of him for being "panicky Susan"), we always come back closer and more in love. Discovering the world with your significant other is one of the greatest things you can do.
Get out of your normal routine. Michael and I  have recently introduced random date nights. We alternate on a weekly basis with a surprise date on a surprise day. Sometimes it's as simple as dinner and a movie. Other times, it's cooking breakfast leisurely at home. Maybe even Disneyland for fireworks! Whatever it is, this keeps it really lively and surprising. Plus it's super fun to force Michael out of his comfort zone and to be spontaneous.
These tips have been really useful for our relationship and I hope they help you keep it spicy and exciting. We have been together for a long time now and will continue to try and keep it "fresh" every day!
– Lauryn, x
For the latest and greatest info on fashion, health, and lifestyle, be sure to check out TheSkinnyConfidential.com or find her on Instagram, Pinterest, Snapchat, Twitter, and YouTube!
---
This story was written by a fab member of our Ambassador Network.