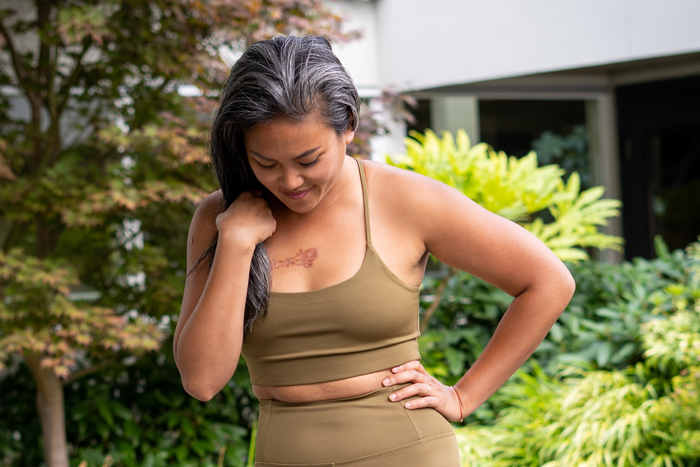 Feature Image by Alexandra Tran
Covering up your grays could be a thing of the past. We've been fed this narrative that signs of aging should be pillaged with serums and attacked with permanent box dyes. However, we believe that a laugh line here and a gray hair there is a sign of a life well-lived.
If you're over putting harsh chemicals in your hair and scheduling appointment after appointment to camouflage the grays, we feel you. That's why we're offering up tips to successfully and stylishly grow out your grays.
Cut your hair
The best way to welcome grays is to select a haircut style that complements your graying tresses. Opting for a modern cut will defy the old-age symptom that seemingly appears with gray hair. A modern, even short haircut (something like a pixie cut) can do wonders for shaping your face, making you feel youthful, and allowing for your grays to grow in a more natural way while cutting off all the box dye used to preserve your hair color's past.
Avoid harmful products
We recently learned that permanent dye should only be used on grays — and even then, a permanent dye can be so damaging. It's also a cover-up. To get the best results, avoid these harmful products altogether, and rock your grays. In the meantime, add serums and oils that assist the natural oils in your hair.
Consult for a color correction
If you've been coloring your hair, chances are that your grays are blending in with a color that doesn't actually match your new base hair color. Meet with a stylist that you trust to work up the courage to take on a color correction. It's a process, it's costly, and it's timely — but it's worth it. When it comes to this style of color correction, your stylist will create highlights that match your gray coming in instead of your base color, making the grow-out process seem more natural and gradual. This also allows for less maintenance in the end but the upkeep will be required.
Be comfortable with your grays
This doesn't take as much doing as it does just being. To really get the grays to grow, you just have to be ready to let it happen. Look in the mirror and see yourself as a silver beauty and not someone riddled with old age — because that's not what this is. Be comfortable with rocking your grays and know that the rest just comes naturally.
xx, The FabFitFun Team