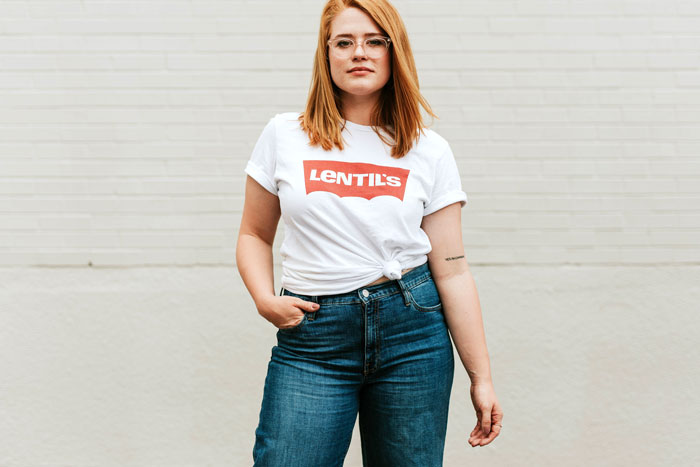 Feature Image by Brooke Cagle
Perfect-fitting denim is the dream, albeit an elusive one. The key to nailing the perfect fit is finding the right "rise" – the measurement from the waistband to the center seam – and "inseam" – from the seam to the hem – which can be quite a challenge.
To help you find your next go-to pair, Laurie Brucker, certified image consultant, personal stylist, and motivational speaker, recommends taking your search online via your favorite department store. Not only do most denim brands offer more extensive sizing options including petite, tall, and plus sizes online, but you can modify your search terms to meet your exact sizing needs.
Here are Brucker's expert tips to find the perfect pair of jeans for your body type.
Petite – buy cropped styles
More and more retailers offer petite denim sizes these days, but if they don't, Brucker says you can make it work by looking for cropped styles. "Petite denim means the rise is going to be shorter. It fits the waistline better, the knee break will be higher to fit a shorter leg, and the inseam will be offered in shorter lengths," she explains. "Cropped-length styles, around 30 inches, [are similar in fit to petite denim]."
Tall – shop longer length inseams
"Like the petite babe, for tall babes, the rise and inseam measurements are also a big challenge," she explains. "The rise can be short on a long torso, while even the longest length available can feel like a crop!" Brands like J.Crew and Midheaven Denim have inseams that range from 28 to 38 inches, which come in handy for ladies with longer legs.
Curvy – seek contoured waistbands
Take a peek at the waistband to see how it's shaped and angled. "[A contoured waistband] means the back rise sits lighter on the back while curving lower toward the front," Brucker explains. "This helps avoid the dreaded muffin top while securing in your curves." Good American is one of Brucker's favorite size-inclusive jean brands for their impeccable designs and stretchy denim blend.
xx, The FabFitFun Team