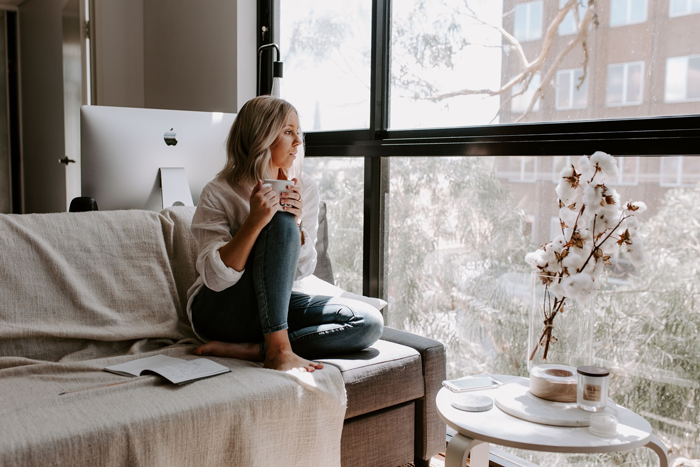 Feature Image by Trent Szmolnik
Holocaust survivor Viktor Frankl once said, "When we are no longer able to change a situation, we are challenged to change ourselves." In challenging times, this advice rings true. While there are many circumstances and situations we cannot control, joy is something we can choose and actively seek.
As we are living in unprecedented times of a global pandemic, choosing joy is vital now more than ever. Here's what a few therapists had to say about staying hopeful and positive.
Start your day off with gratitude
"Spend time each morning in a state of gratitude. Be thankful for your blessings and train your brain to find the good in all situations. Point out all of the things that you have to be thankful for — a roof over your head, food in the pantry, a safe place, and family. Use this time to write in a journal and keep a log of what you are thankful for each day. On days when you don't feel particularly thankful, go back through your journal and read past entries. " — Robyn Flint, MS in clinical mental health counseling
Relinquish your expectations
"These are not normal times so don't have normal expectations of yourself. Do not beat yourself up over how you are working from home. Allow yourself to just exist rather than achieve." — Jacqueline Shlain, associate marriage and family therapist (AMFT)
Stay in the present moment
"Joy is about appreciating the moments, in the now, and being grateful for what is in front of us. Take a moment and make a list of what you do see now, what you do have now, and what you do appreciate now. It is as if the whole world is getting a lesson on pausing life and reflecting [on] what is important. The whole world is at home. Maybe even praying, meditating and evaluating everything in their lives." — Audrey Hope, D.D., certified addiction and trauma therapist, relationship expert
Rest and nourish your body
"We know that being tired makes us more vulnerable to worry, anxiety, and getting sick. These things can rob us of our joy. Recharge nightly for seven to nine hours. Make sure you are eating a balanced three meals and three healthy snacks and hydrating. Try to cut out the snacks and fridge visits." — Joseph Tropper, counselor, MS, LCPC, CCTP, CHT
Don't take yourself quite so seriously
"Allow yourself to laugh, play, and be silly. Our control is limited, and our ability to predict the future is less certain than ever. What we do have control over is our mindset, our response to stress, and our daily actions. Now is the most important time to balance the chaos and tragedy with laughter and play. Finding joy in the simplest things and keeping our spirits as high as we can for the sake of our own immune systems, our community, and all of humanity." — Bailey Bryant, clinical psychologist, Health Match 360
Help someone else
"Often the best source of finding joy is helping someone less fortunate than you are. Volunteer to bring food to an elderly person. Bake cookies and drop them off at a shelter. Check out community organizations to see if you can volunteer there." — Dr. Kathryn Smerling, psychotherapist
Get creative
"Instead of spending all day inside watching TV, play games or take a run through the neighborhood (safely!). Staying productive and keeping your mind stimulated can help." — Prairie Conlon, licensed mental health professional
Move your body
"You can find joy by working out, exercising, and doing yoga. Learn to be present while breathing and building flexibility and muscle. Put on a playlist that makes you feel relaxed, and move your body." — Katie Ziskind, Licensed Marriage and Family Therapist, Owner of Wisdom Within Counseling 
Listen to your favorite music
"It will help recall positive memories and research has shown that it can reduce anxiety and lower blood pressure, improve sleep quality and mood." — Stephanie Mihalas, licensed and board-certified psychologist and founder of The Center for Well-Being
Be silly
"Do something playful and fun with your time, like playing a game with the people you are at home with or play dress-up during your Zoom hangouts. Have activities like this where you can let loose, be a little silly and have something to look forward to can help bring joy." — Danielle Selvin Harris, PSYD, LMFT
Filter what you see and hear
"Cut off the news, and throw out the newspapers. Take time away from the negativity, and create a place where the topic is different. This can help you feel a sense of normalcy. It's important to take steps to limit our mental exposure to negative news and focus the attention on what is right and good in the moment." — Candida Wiltshire, MSW, LCSW
Be kind to yourself
"We spend a lot of time trying to live up to impossible standards, and we are often our biggest critic. Allow yourself the space to be present with your feelings, knowing it's part of the human experience. Give yourself space to feel whatever it is you are feeling even if it's for a moment and know that you are not alone." — Nikita Banks, LCSW, licensed psychotherapist
xx, the FabFitFun team