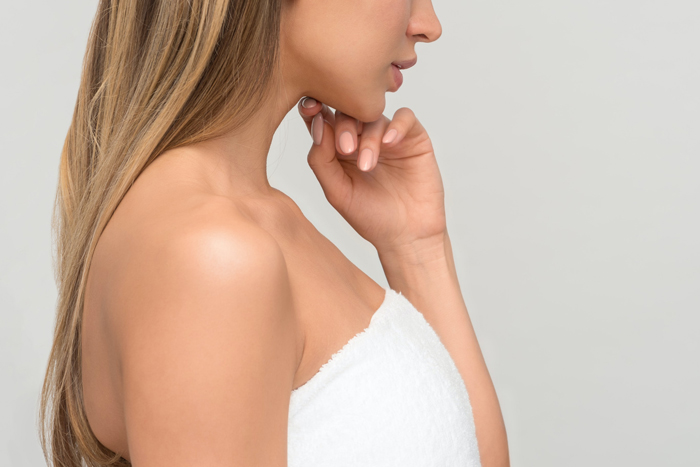 Feature Image by Icons8 Team
We're always searching for skin care products that leave our skin toned and glowing, so when we learned that facial massages are a great way to boost our complexions without purchasing any products, we had to reach out to our experts to see if it's worth our while.
Below is a simple guide to making sure your next facial massage help stimulate blood flow, offer, lymphatic drainage for better muscle tone, and even help products absorb better.
1. Start with your forehead
"Place your fingertips in the center of your forehead and close your eyes. Apply slight pressure and slide your fingers out towards your temples, repeat this six times to reduce the appearance of forehead wrinkles," explains Nina Connor, owner and lead esthetician of Glow By Nina.
---
2. Next, your brows!
A facial massage is an effective way to naturally lift your brows. "Take your middle fingers and apply light pressure along the bridge of the nose between the eyebrows. Slide your fingers right under the eye bone as you move up toward the outer corners of the eyes, repeat that six times. Then pinch along your brows toward your temples with your index fingers and your thumbs," says Connor.
---
3. Under the eyes too
To help get rid of fluid retention under the eyes, Inge Theron, founder of Face Gym recommends, placing one pointer finger in the corner of the eye "to support the skin, then take the other and extremely lightly run it under the eye out to the hairline and down to the ear to release through the lymph nodes."
---
4. Sculpt your cheeks
Regular face massages will naturally lift and sculpt the face especially the cheek area, which can be contoured and defined by "using your index and middle fingers to create a hook and then gliding it from the bridge of the nose, grasping the cheekbone with your finger hook and out toward the temple. Repeat this six times on each side of the face," notes Connor.
---
5. Define your jaw
Chisel your jaw but taking "your pointer and middle fingers to make two claws and start at the chin moving out and up along the jawline with medium to firm pressure. If you feel any knots along the way, feel free to pause and apply more pressure to release the tension," says Theron.
---
6. Don't forget your neck
We drag our beauty products down our neck, so of course, no facial massage is complete without treating the neck. "Use the flats of your knuckles along the side of the neck, careful to avoid the thyroid, making upward and outward circles to release tension and increase circulation," Theron says.
xx, The FabFitFun Team