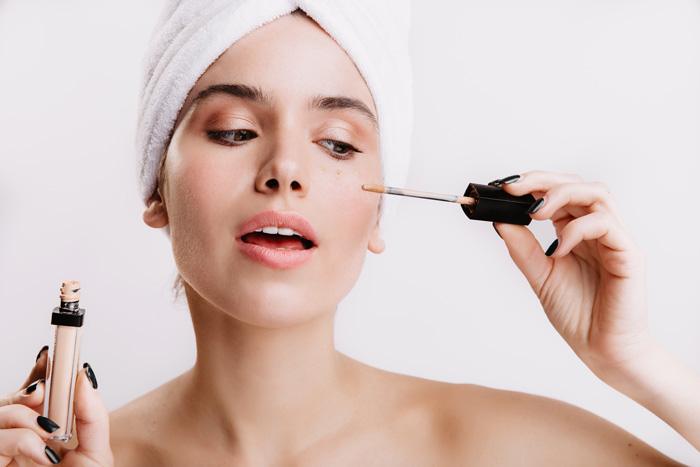 Concealing pimples with makeup is quite the challenge, as many zits vary greatly in size, color, and texture. While it may be tempting to glob on as much color-correcting concealer as you possibly can, makeup artists suggest that this is probably not the best course of action.
To help you conceal large pimples and blemishes correctly, we asked experts to break down all the easy ways you can solve this common beauty problem below.
Prep the skin
The first step to concealing any zit is to prep the skin for the products you're about to apply. "You always want to medicate your blemish in whatever way you choose," says NYC-based makeup artist Logan Greenwood. "However, this can really dry out the skin, leaving it with an unwanted flaky texture." To avoid this, Greenwood suggests keeping your blemishes as hydrated as possible. This ensures that your color corrector and foundation will glide on easily and stay in place.
The next step to perfectly prepped skin? "After cleansing with a gentle face wash, apply tea tree oil directly to the zit and do not rinse," says Gillian Hanson, makeup artist and founder of Honeycomb Salon. Do this twice daily, she advises, particularly in the morning and evening.
Avoid products with light-reflecting particles
"Most people tend to use a one-size-fits-all concealer to cover anything on their face," says Cati James, an NYC-based bridal makeup artist. She explains that some under-eye concealers contain light-reflecting particles to brighten dark circles, but this can ultimately draw attention to blemishes.
Apply your concealer with care
"As tempting as it is to cover a bright red (or dark) blemish with a light concealer, try to keep in mind that this will show up brighter than your foundation," Greenwood says. To color correct properly, he advises dabbing a touch of concealer onto the skin, patting it on with your ring finger or sponge applicator, then applying your foundation as normal.
Be careful with setting powder
"Be careful with setting powder, as powder can grab onto any texture (or sizeable bump) and show it off to the world," Greenwood says. "Always keep it simple and clean in the makeup department, and don't touch your face or over-wash it."
Don't use a full-coverage foundation
"Using a full-coverage foundation to cover a few blemishes is probably one of the most common mistakes," says Sébastien Tardif, makeup artist and co-founder of Veil Cosmetics. This creates a mask-like finish on your complexion, which draws attention to the makeup applied. To avoid any embarrassing beauty blunders, he recommends leaving great skin untouched and only covering the actual zits for utmost results.
Use green concealer to counteract redness
"Always color correct your pimples with a green concealer first," says makeup artist Denise Madrigal. Green counteracts any redness, so when you apply concealer over it, it should be unnoticeable.
xx, The FabFitFun Team