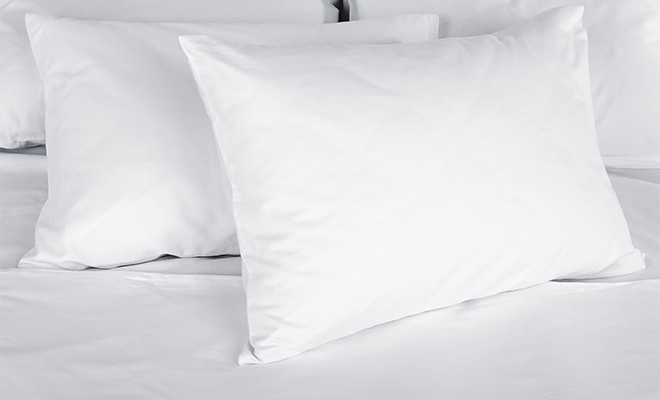 As you nestle your head on your pillow for a good night's sleep, think about this for a second: You're probably laying your head on a pile of fungi if you haven't changed or cleaned your pillow in a while. Yep, it's pretty gross.
Bed pillows attract fungi and dust mites, but that's not all that can build up on your pillow…dirt and oil linger inside your pillows, too. Yuck! Especially if you don't switch out your pillows regularly, you increase the chances of allergies and breakouts. So make it a habit to switch out your pillows periodically.
But how often should you be replacing your pillows? If you have the budget, physically replace your pillows with new ones every six months. If you don't want to replace your pillows, clean them! Oh, and make sure you're washing your pillowcases every week.
If you opt to clean your pillows, here's the lowdown:
Dry clean your down pillows.
Clean your down alternative pillows in the washing machine using the gentle cycle. You should wash up to two regular-size pillows together, or wash king-size pillows one at a time. Follow up with the low or tumble-dry cycle in your dryer. Note: It might take more than two hours to dry since pillows are pretty thick.
Either way, you should replace your pillows periodically as it can be less about cleanliness and more because the pillows aren't doing its job anymore.
Good Housekeeping recommends replacing your pillows if it:
• Has lots of lumps and bumps that are clumped together.
• Requires quite a bit of fluffing or punching to maintain its support.
• Stays folded when you fold it in half because it's lost most of its stuffing.
If your pillows are worn out, investing in some new pillows may help you (finally) get a better night's sleep!
xx, The FabFitFun Team