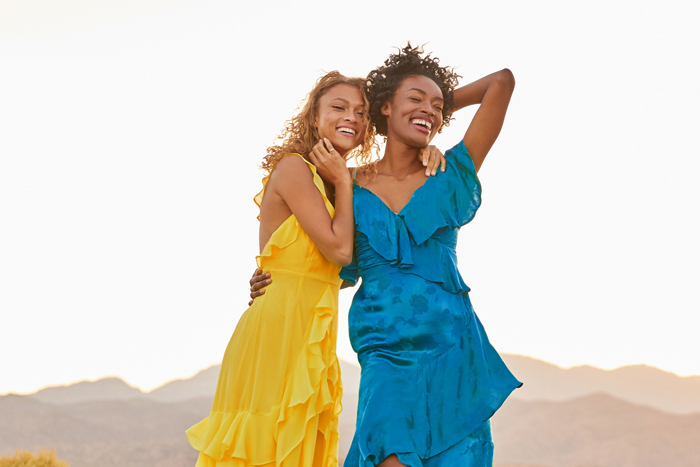 SPRING 2019 BOX PARTNER
From redefining beauty standards to inspiring confidence in women, we love partnering with brands that want to bring out the best in you.
Check out how these #ladybosses are paving the way for women.
"We know that everyone has less and less time to prioritize self-care and happiness – women especially! So whether it's trying a body scrub from the FabFitFun box, a workout on FabFitFunTV, or meeting a new friend in the Community, we hope to empower women and provide the most happiness through the FabFitFun membership." – Katie Echevarria Rosen Kitchens, Co-Founder of FabFitFun
"One of the things I love most about TULA is that our mission is to inspire confidence, especially in women. I think confidence is built by doing things that make you feel empowered, so I would always encourage women to take the time to explore what that means to them, and then invest as much time as you can into that pursuit." – Dr. Roshini Raj, Co-Founder of TULA and Board Certified Gastroenterologist
"I try to inspire others by simply being a female entrepreneur that bootstrapped S'well eight years ago and still owns the company today. I try to share what I've learned, the mistakes I've made, [and] the joys of entrepreneurship in the hopes of helping individuals know that they can go after their dreams too. – Sarah Kauss, Founder and CEO of S'well
"I personally believe that we all have the right to feel [like] the best version of ourselves every day; feeling confident about who we are [and] how we look. Exploring the best version of yourself begins with what matters to you – your values, how you want to live your life, and how you want to contribute to society." – Lena Korres, Co-Founder and Head of Innovation/Product Development of KORRES
"Our goal is to make clothing for every part of women's lives, especially their big milestones in life. Whether that's sorority recruitment, your best friend's wedding, or your pregnancy, we have your back. We have always celebrated the natural changes of women's bodies and all phases of life." – Cammy Miller and Cologne Trude, Co-Founders and Co-Owners of Show Me Your Mumu
"We believe that showering and bathing are universal activities no matter your size, color, religion, or gender. We all practice the intimacy of self-care and we love that we can be a tool that hopefully helps elevate this experience!" – Christina Lanae Walker, Marketing at Daily Concepts
"I think it's really important for us as a beauty brand to represent different forms of beauty. We also pride ourselves on launching World First formulations through innovative textures with magical twists…we love to push the boundaries of beauty!" – Charlotte Knight, Founder and CEO of Ciaté London
"We believe that women these days want to make a difference and by supporting women-run small businesses and eco-conscious businesses, they are making their voices heard. I think that in itself is really empowering." – Sara Naghedi, President of Deux Lux
"Unplug Meditation is inspiring women to wake up every day and meditate – by setting intentions first thing in the morning, your day unfolds with purpose and passion. There's nothing more empowering than that." – Suze Yalof Schwartz, Founder and CEO of Unplug Meditation
"We believe beauty is from within. Our products only enhance the beauty you were born with." – Manna Kadar, Founder and CEO of Manna Kadar Beauty Inc.
"We encourage women to be unique and the best versions of themselves. The2Bandits stands for confidence." – Tamar Wider, Owner, Designer, and Creative Director of The2Bandits™
"As a brand, we ensure that our products are for all tones and skin types. We make sure this is presented through our packaging, formulas, and marketing campaigns [while] using models that everyone can relate to." – Lisa Mendez, International Sales Director of dr. brandt skincare
"One of the biggest drawcards for me when I was first introduced to Sunnylife was the shared vision of summer, and the beach, in particular, as being the great equalizer. Age, race, dress size, [and] ethnicity all become a blur. It's a place where anyone can come to make memories [and] live in the moment." – Abbey Pantano, Head of Marketing of Sunnylife Australia
"As a working mom, everything is a balancing act. Whether you're making pasta from scratch one day or doctoring up a boxed brownie mix the next, Giadzy is about giving people simple tips and tools to feel empowered in the kitchen and in their homes with their families." – Giada De Laurentiis, Founder of Giadzy
"I think women are strong and powerful, and we created Lavido in order to empower women all over the world to stay naturally beautiful from the outside and the inside." – Liron Schneider, CEO of Lavido
xx, The FabFitFun Team
Psst! Have you signed up for FabFitFun yet? Don't miss out on $200+ in amazing beauty, fitness, fashion, and lifestyle products, access to exclusive fitness and cooking content on FabFitFunTV, members-only sales, and more. Join today!
To get the most out of your box products, make sure to check out the Insider page.