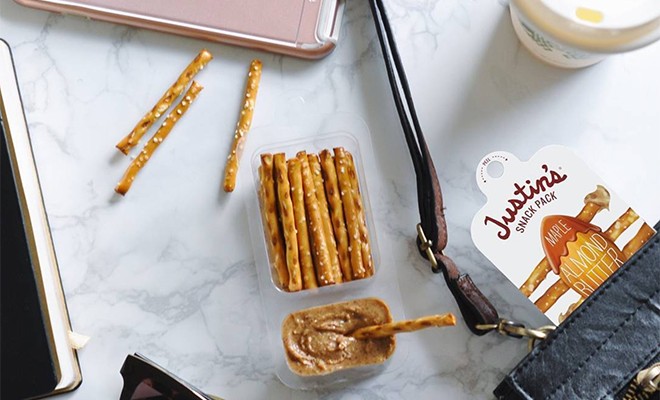 @justins
We know the feeling — you get to work after you've just eaten breakfast and now you're counting down the hours, minutes, and seconds until lunch. Who are we kidding, though? Food is the highlight of our day!
So if your plain almonds, greek yogurt, or apples just aren't cutting it anymore when you're in between meals, look no further than this list of nutritious (and seriously delicious) snacks to keep on hand at your work desk.
SeaSnax Sheets
Instead of chips, crunch on these gluten-free, vegan seaweed sheets. The taste and texture will satisfy those salty cravings.
---
Tiger Nuts
This high fiber food isn't actually a nut, but rather a starchy vegetable. That's nuts! It's an ancient superfood making its way back into our daily diets.
---
Sardines
Don't rule this suggestion out completely. Sardines may not be the most delicious food on the planet, but it's one of the most nutrient dense foods we can get our fingers on.
---
Krave Jerky
This low-calorie protein packed snack beats the beef jerky of your childhood that was leathery and bland. Packed with flavor and all natural ingredients you'll crave more Krave every day!
---
Justin's Almond Butter Plus Pretzels
Make your calorie count on nuts manageable with these to-go packs of almond butter. Just like those cheese and cracker snacks we ate as kids, this is the adult version that we can't get enough of.
---
Bare Coconut Chips
Gluten and preservative-free, pick your flavor of roasted coconut chip for either a sweet, salty, or zesty snack! Share them with a co-worker because if you're like us, you'll end up finishing it all by yourself.
---
Mario Pitted Snack Olives
You might have to forego the glass of wine you usually have with your snack olives, but these 100-calorie packs hit the spot when you just need a little something to carry you until happy hour.
---
Eating Evolved Dark Chocolate Coconut Butter Cups
When that midday craving hits, keep these dairy and soy free chocolate cups (sweetened with maple sugar) on hand to feel good about indulging.
---
RXBAR
Touting itself as the "whole food protein bar with no B.S.," you can't go wrong with the simple, nutritious, and filling ingredients. Pack one in your purse and be sure to try all the flavors!
---
Plantain Chips
Oh, how addicting these are. Make sure you grab a serving size bag, otherwise you'll eat them all in one sitting. Baked to perfection, you'll go bananas for these chips!
xx, The FabFitFun Team