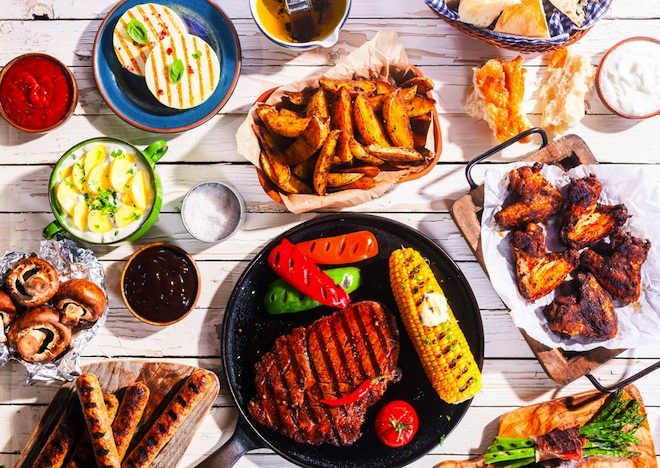 We all know Memorial Day weekend is the unofficial start of summer and BBQ season. While we love a deliciously grilled hamburger, we like to be conscious about eating healthy, too.
Nix the side of fries and chips at the next BBQ party, and top your meal with healthy condiments instead. We rounded up the most delish sides that will satisfy your cravings and save you some calories while you're at it. #YoureWelcome
Avocado
We know, we know. This is an obvious pick, but hey — you can never go wrong with a little avocado or guac on your burger. This healthy fat will stick with you and keep you satisfied, so you won't be reaching for those potato chips.
---
Greek Yogurt Ranch
Skip the full fat ranch and make it yourself the skinny way! Gimme Some Oven has one delicious recipe that skips the fat and fills you up with protein. Mix one cup of your favorite low fat Greek yogurt with ranch seasoning, and you have yourself a tasty yet healthy topping for your veggies.
---
BBQ White Bean Hummus
Skip the sugar-filled barbecue sauce and say "yes" to fiber filled BBQ white bean hummus, recipe courtesy of The Vegan 8. This healthy topping is perfect for your vegan friends who need a hearty topping to pair with their veggie burgers or hot dogs.
---
Chimichurri
If you're grilling steak or tri-tip this weekend, try this delectable topping. Chimichurri is filled with healthy herbs and has a solid dose of good fats which will keep you full. A Family Feast has created one simple recipe that will be the perfect topping for your Memorial Day weekend.
---
Grilled Onions
Toss out the boring chopped red onions and take it up a notch. Slice red onions, drizzle w/ olive oil and sprinkle salt and pepper and grill until they're lightly golden brown. While this condiment is simple, it certainly will impress your BBQ guests.
---
Grilled Pineapple
There is nothing better than a sweet and savory dish. We are absolutely ub-sessed with grilling our pineapples and topping on our burgers. Slice some pineapple, and simply stick it on the grill. This condiment will feel indulgent, but it's super healthy.
xx, The FabFitFun Team