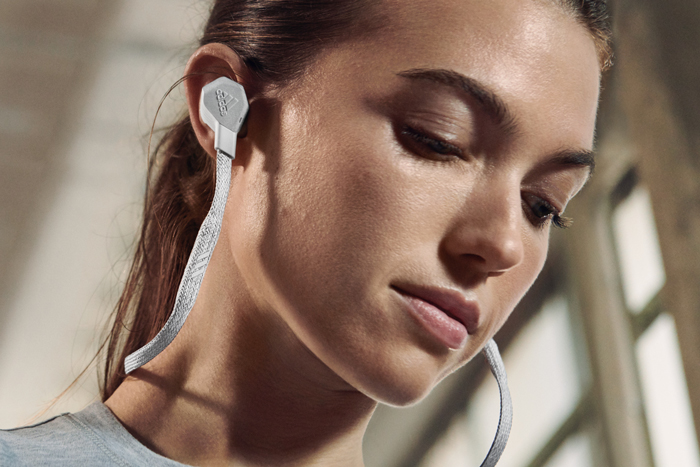 Feature Image by adidas
Whether you're a fitness devotee or just starting to incorporate fitness into your everyday routine, at-home workouts have become the norm for pretty much everyone. Though it can be difficult at times, one way to guarantee a productive exercise session is with a good set of headphones. And we found just the ones! 
We found five must-have picks that include all the qualities you want for your workout routine. Not only are these options sweat-proof, but the secure fits will ensure a comfortable workout without having to adjust the buds every five seconds. After all, is there anything more frustrating than a pair of headphones slipping off in the middle of a push-up? 
Keep scrolling for five favorite headphones for your at-home sweat sessions.
Between the lightweight feel and tangle-free cord, you'll hardly be able to tell you're wearing earphones with this wireless set. Plus, you can make Google Assistant your shortcut button to keep everything totally hands-free for a focused workout. 
---
Calling all Apple users! Though these comfy buds can be noise-canceling, you can also switch them to transparency mode if you need to listen to your surroundings. For instance, dinner's in the oven and you can't miss the timer — again!
---
For those on a budget, these are the pick for you. They may be affordable, but they also have all the qualities you want in a workout earphone.  Thanks to the customizable ear tips and hooks, a secure fit is guaranteed.
---
The sound quality of these fierce and fashionable earphones is off the charts! You'll get so caught up in your killer playlist that we promise time will fly during your HIIT sessions.
---
Noisy neighbors? Is construction going on outside your place? These noise-canceling headphones will drown all that out so you can zone in on an intense workout. Whether you're lifting weights or getting lost in a kickboxing class, these super cool headphones are the splurge you deserve. 
xx, The FabFitFun Team