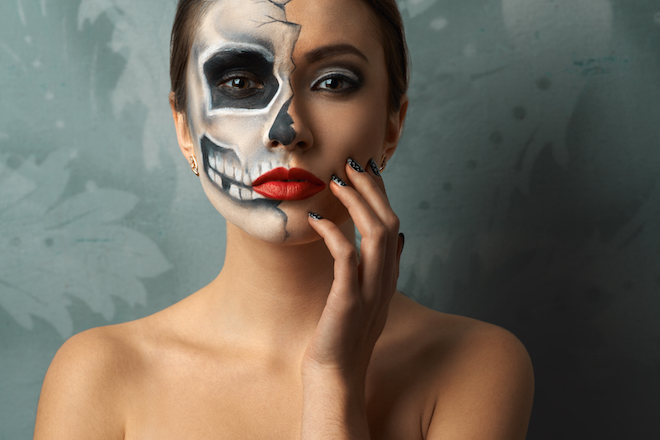 Looking to get creative this Halloween, but don't know where to start? The talented makeup artists of Instagram are not only sharing their artwork for our eyes to feast on, but many actually give tutorials on how to achieve the haunted looks!
We've rounded up a list of individuals whose skill sets are to-die-for (literally). Find a character you like best and adjust it to your skill level or taste. If a makeup look appears too difficult, just try to manipulate the costume to suit your style.

@kimberleymargarita_
Her pastel ethereal looks range from sweet and innocent, to blood sucking scary! Colored contacts take her costumes to the next level.
---

@milk1422
The face chart master! His work is stunning and so unique, and it's great to see how other makeup artists interpret his work on their face shapes (which he features on his page also).
---

@twiggybraindead
Doll face glam is taken to the next level with this artist's work! We're loving the blurred-edge lip, which is super trendy right now.
---

@madeyewlook
The artist features many familiar creepy characters from classic scary movies on her page, and gives tutorials on how she achieves all her intricate looks.
---

@beautsoup
This artist's style less gory than others, but her alluring fantasy looks are impressively pretty as well as unique. If you want to add some edge to your typical fairy princess, she'll give you all the inspo you need.
---

@ellie35x
The cat's out of the bag. When it comes to creepy glam, this artist's looks are purr-fect. Her shading techniques are on point!
---

@simple.symphony
From looks that make Christmas seem spooky to ones that look like they came straight out of Beetlejuice, this artist creates bejeweled creatures that are tantalizingly scary!
---

@marioncameleon
Her detailed demonic Halloween looks will frighten even the bravest of trick-or-treaters! Check out her full tutorials on her Halloween playlist on YouTube.
---

@the_wigs_and_makeup_manager
Talk about a pop of color! This artist brings our neon dreams to life with amazing 3-D accessories and holographic details.
---

@mykie_
Making your nightmares come to life, the artist's talent for replicating terrifying characters is impressive. Just a scroll through her page, and you'll get spooked!
xx, The FabFitFun Team