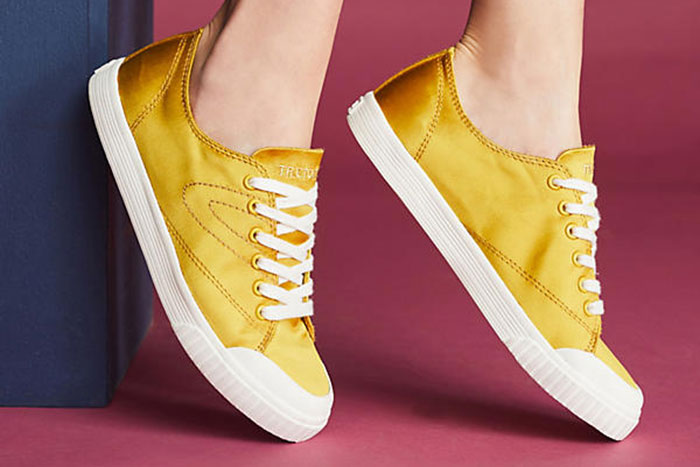 Feature Image by Anthropologie
From pink shoes to pink home décor, millennial pink's been the "it" color for quite some time now…until recently, that is. Make way for the latest color trend: Gen Z Yellow. Now, instead of bubblegum pink, your Instagram scrolling sessions will be filled with vibrant yellows.
There are several shades that make up the Gen Z color palette — think everything from light, lemon hues to dark, mustard tones — meaning you've got plenty of options to choose from, and no matter what shade of yellow you're wearing this season, you'll be totally on trend. So, let the shopping begin!
This fun take on menswear takes the term "business casual" to a whole new level. Dress it up for work or dress it down for a quick coffee run — you just can't go wrong with a versatile piece like this.
---
We don't know about you, but we can't help but smile when we see this color. This cropped tank might be intimidating during the cooler months, but worry not — it can easily be layered with your long-sleeves and turtlenecks.
---
Let the Gen Z color keep you cozy all fall and winter long with a bright knitted scarf. A bold accessory like this will pair well with the darker wardrobe tones we tend to accumulate during fall and winter.
---
Whether you're heading to the gym or just running an errand, a jacket like this is the perfect topper. It's casual, warm, trendy, comfy — OK, you get the point.
---
A velvet number is a must-have for every fashionista out there. Pair this duster coat with pretty much any outfit, and consider this trend conquered.
---
We don't know about you, but we're convinced we could live in this sweater. It's soft, cozy, and just the right shade of yellow. Yep, it's official…we're never taking it off!
---
Ease your way into the color with these sneakers. Not only are they comfy, but they're also easy to pair with any casual outfit. We recommend amping up a simple jeans and tee combo or dressing down a midi skirt and blouse ensemble.
---
If subtlety is more your thing, then you'll definitely appreciate this light yellow number that couldn't be more effortlessly chic if it tried.
---
From the fabric choice to the hue, this piece has it all. Pair this cute cami with a blazer and a pair of jeans for a look that can't be beaten.
---
Cardigans are a must in the chilly weather, so add this one to your collection. Plus, how convenient are the pockets on the front panels?
xx, The FabFitFun Team