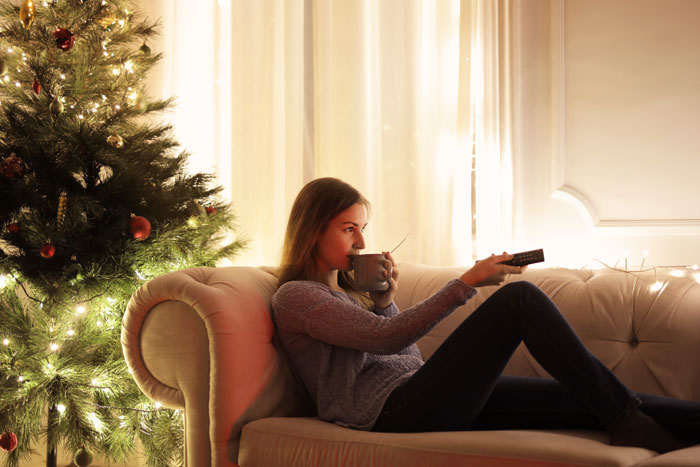 Deck the halls and hang your stockings – the holiday season is officially underway now that Freeform's annual 25 Days of Christmas schedule is here. The network is breaking out all the best flicks to get you in the holiday spirit this year.
From feel-good classics like  Home Alone 3 and The Santa Clause to funny films like Dr. Seuss' How the Grinch Stole Christmas, the list of holiday favorites will keep you cheerful all December fa-la-long.
Check out the full schedule below.
Saturday, December 1
7 a.m. — Santa Paws 2: The Santa Pups
9:05 a.m. — Home Alone 3
11:15 a.m. — The Wonderful World of Disney: Magical Holiday Celebration
1:15 p.m. — Richie Rich's Christmas Wish
3:20 p.m. — Christmas With the Kranks
5:25 p.m. — The Santa Clause 3: The Escape Clause
7:35 p.m. — The Nightmare Before Christmas
9:15 p.m. — Dr. Seuss' How the Grinch Stole Christmas
11:55 p.m. — Life-Size
Sunday, December 2
7 a.m. — Home Alone 3
9 a.m. — Eight Crazy Nights
11 a.m. — Richie Rich's Christmas Wish
1:05 p.m. — Mickey's Once Upon a Christmas
2:35 p.m. — Life-Size
4:40 p.m. — The Nightmare Before Christmas
6:20 p.m. — Dr. Seuss' How the Grinch Stole Christmas
9 p.m. — Life-Size 2: A Christmas Eve
11 p.m. — The Holiday
Monday, December 3
7 a.m. — Mickey's Once Upon a Christmas
8:30 a.m. — Winnie the Pooh and Christmas Too
9 a.m. — The Little Drummer Boy (1968)
11 a.m. — Decorating Disney: Holiday Magic
12 p.m. — The Truth About Christmas
2:10 p.m. — The Holiday
5:25 p.m. — Life-Size 2: A Christmas Eve
7:25 p.m. — The Santa Clause
9:30 p.m. — Pop Up Santa Holiday Special
12 a.m. — The Family Stone
Tuesday, December 4
7 a.m. — Decorating Disney: Holiday Magic
8 a.m. — Pop Up Santa Holiday Special
11:30 a.m. — Love the Coopers
2:05 p.m. — The Family Stone
4:10 p.m. — This Christmas
6:50 p.m. — The Santa Clause
8:55 p.m. — The Santa Clause 3: The Escape Clause
12 a.m. — Home Alone 3
Wednesday, December 5
7 a.m. — I'll Be Home for Christmas (1998)
9 a.m. — Mickey's Christmas Carol
11 a.m. — Disney's Fairy Tale Weddings: Holiday Magic
12 p.m. — Home Alone 3
2 p.m. — Richie Rich's Christmas Wish
4:05 p.m. — Santa Claus Is Comin' to Town
5:10 p.m. — The Nightmare Before Christmas
6:50 p.m. — The Santa Clause 3: The Escape Clause
8:55 p.m. — Christmas With the Kranks
12 a.m. — I'll Be Home for Christmas (1998)
Thursday, December 6
7 a.m. — Mickey's Christmas Carol
7:30 a.m. — Santa Paws 2: The Santa Pups
12 p.m. — Richie Rich's Christmas Wish
2:05 p.m. — Santa Claus Is Comin' to Town
3:10 p.m. — The Nightmare Before Christmas
4:50 p.m. — Christmas With the Kranks
6:55 p.m. — Disney•Pixar's Toy Story
8:55 p.m. — Disney•Pixar's Toy Story 2
12 a.m. — Call Me Claus
Friday, December 7
7:30 a.m. — Jingle All the Way 2
11 a.m. — Call Me Claus
1:10 p.m. — Unaccompanied Minors
3:15 p.m. — Disney•Pixar's Toy Story
5:15 p.m. — Disney•Pixar's Toy Story 2
7:20 p.m. — Disney•Pixar's Toy Story 3
9:50 p.m. — Disney's A Christmas Carol
11:55 p.m. — A Belle for Christmas
Saturday, December 8
7 a.m. — The Little Drummer Boy (1968)
7:30 a.m. — Winnie the Pooh and Christmas Too
8 a.m. — A Belle for Christmas
10:10 a.m. — Unaccompanied Minors
12:15 p.m. — Deck the Halls
2:20 p.m. — Disney's A Christmas Carol
4:25 p.m. — Santa Claus Is Comin' to Town
5:30 p.m. — Disney•Pixar's Toy Story 3
8 p.m. — Disney's Fairy Tale Weddings: Holiday Magic
9 p.m. — The Santa Clause
11 p.m. — The Santa Clause 3: The Escape Clause
1 a.m. — Disney's Fairy Tale Weddings: Holiday Magic
Sunday, December 9
7 a.m. — Winnie the Pooh and Christmas Too
7:30 a.m. — Deck the Halls
9:30 a.m. — Santa Claus Is Comin' to Town
10:35 a.m. — Life-Size
12:40 p.m. — Life-Size 2: A Christmas Eve
2:45 p.m. — Christmas With the Kranks
4:50 p.m. — The Santa Clause
6:55 p.m. — The Santa Clause 3: The Escape Clause
9 p.m. — Dr. Seuss' How the Grinch Stole Christmas
11:35 p.m. — Love the Coopers
Monday, December 10
7 a.m. — This Christmas
11 a.m. — Disney's Fairy Tale Weddings: Holiday Magic
12 p.m. —Love the Coopers
2:35 p.m. — Richie Rich's Christmas Wish
4:40 p.m. — The Nightmare Before Christmas
6:20 p.m. — Dr. Seuss' How the Grinch Stole Christmas
9 p.m. — No Sleep 'Til Christmas
12 a.m. — Holiday in Handcuffs
Tuesday, December 11
7 a.m. — Winnie the Pooh and Christmas Too
7:30 a.m. — Unaccompanied Minors
11 a.m. — Pop Up Santa Holiday Special
12:35 p.m. — Richie Rich's Christmas Wish
2:40 p.m. — The Nightmare Before Christmas
4:20 p.m. — Jingle All the Way 2
6:25 p.m. — Ice Age: Continental Drift
8:30 p.m. — Disney•Pixar's Finding Nemo
12 a.m. — Beethoven's Christmas Adventure
Wednesday, December 12
7am/6c — Beethoven's Christmas Adventure
11:30am/10:30c — Jingle All the Way 2
1:30pm/12:30c — Mickey's Once Upon a Christmas
3 p.m. — Mickey's Twice Upon a Christmas
4:30 p.m. — Ice Age: Continental Drift
6:30 p.m. — Disney•Pixar's Finding Nemo
9 p.m. — Disney's A Christmas Carol
12 a.m. — Call Me Claus
Thursday, December 13
7 a.m. — Call Me Claus
11 a.m. — No Sleep 'Til Christmas
1:05 p.m. — This Christmas
3:40 p.m. — Holiday in Handcuffs
5:45 p.m. — The Holiday
8:55 p.m. — The Santa Clause
12 a.m. — Deck the Halls
Friday, December 14
7 a.m. — The Family Stone
11 a.m. — Angels Sing
1:05 p.m. — The Mistle-tones
3:10 p.m. — Christmas With the Kranks
5:15 p.m. — Deck the Halls
7:20 p.m. — The Santa Clause
9:25 p.m. — The Santa Clause 3: The Escape Clause
11:30 p.m. — The Family Stone
Saturday, December 15
7 a.m. — Mickey's Christmas Carol
7:30 a.m. —Mickey's Once Upon a Christmas
9 a.m. — Mickey's Twice Upon a Christmas
10:30 a.m. — Christmas With the Kranks
12:35 p.m. — The Santa Clause 3: The Escape Clause
2:40 p.m. — Disney•Pixar's Toy Story
4:40 p.m. — Disney•Pixar's Toy Story 2
6:45 p.m. — Disney•Pixar's Toy Story 3
9:15 p.m. — Dr. Seuss' How the Grinch Stole Christmas
11:55 p.m. — Life-Size 2: A Christmas Eve
Sunday, December 16
7 a.m. — A Belle for Christmas
9 a.m. — Jingle All the Way 2
11 a.m. — Santa Claus Is Comin' to Town
12 p.m. — Disney•Pixar's Toy Story
2 p.m. — Disney•Pixar's Toy Story 2
4:05 p.m. — Disney•Pixar's Toy Story 3
6:35 p.m. — Dr. Seuss' How the Grinch Stole Christmas
9:15 p.m. — Disney's A Christmas Carol
11:20 p.m. — A Miracle on Christmas Lake
Monday, December 17
7 a.m. — Beethoven's Christmas Adventure
9 a.m. — Angels Sing
11 a.m. —  Call Me Claus
1 p.m. — Richie Rich's Christmas Wish
3:05 p.m. — Deck the Halls
5:10 p.m. — Disney's A Christmas Carol
7:15 p.m. — The Nightmare Before Christmas
8:55 p.m. — Paddington
12 a.m. — Richie Rich's Christmas Wish
Tuesday, December 18
7 a.m. — The Little Drummer Boy (1968)
7:30 a.m. — Mickey's Christmas Carol
8 a.m. — Call Me Claus
10 a.m. —The Nightmare Before Christmas
11:35 a.m. — Paddington
1:35 p.m. — Christmas With the Kranks
3:40 p.m. — The Truth About Christmas
5:45 p.m. — The Holiday
8:55 p.m. — The Santa Clause
12 a.m. — Dates of Christmas
Wednesday, December 19
7 a.m. — Snow
9 a.m. — Snow 2: Brain Freeze
11 a.m. — The Family Stone
1 p.m. — Disney's Fairy Tale Weddings: Holiday Magic
2 p.m. — The Holiday
5:05 p.m. — The Santa Clause
7:10 p.m. — The Santa Clause 3: The Escape Clause
9:15 p.m. — Disney•Pixar's The Incredibles
11:55 p.m. — Life-Size
Thursday, December 20
7 a.m. — Pop Up Santa Holiday Special
8:30 a.m. — Mickey's Once Upon a Christmas
10 a.m. — Mickey's Twice Upon a Christmas
11:30 a.m. — Life-Size
1:30 p.m. — Life-Size 2: A Christmas Eve
3:30 p.m. — The Santa Clause 3: The Escape Clause
5:35 p.m. — Santa Claus Is Comin' to Town
6:40 p.m. — Disney•Pixar's The Incredibles
9:20 p.m. — Ice Age: Continental Drift
11:25 p.m. — Life-Size 2: A Christmas Eve
1:30 a.m. — Mickey's Christmas Carol
Friday, December 21
7 a.m. — Mickey's Once Upon a Christmas
8:30 a.m. — Mickey's Twice Upon a Christmas
10 a.m. — The Doc McStuffins Christmas Special 
10:30 a.m. — Winnie the Pooh and Christmas Too
11 a.m. — Mickey's Christmas Carol
11:30 a.m. — Santa Claus Is Comin' to Town
12:30 p.m. — Love the Coopers
3 p.m. — Ice Age: Continental Drift
5:05 p.m. — The Santa Clause
7:10 p.m. — The Santa Clause 3: The Escape Clause
9:15 p.m. — Dr. Seuss' How the Grinch Stole Christmas
11:55 p.m. — No Sleep 'Til Christmas
Saturday, December 22
7 a.m. — A Miracle on Christmas Lake
9:40 a.m. — The Santa Clause
11:50 a.m. — The Santa Clause 3: The Escape Clause
1:55 p.m. — Disney•Pixar's Toy Story That Time Forgot
2:25 p.m. — Disney's Prep & Landing
2:55 p.m. — Disney's Prep & Landing: Naughty vs. Nice
3:25 p.m. — The Nightmare Before Christmas
5:05 p.m. — Dr. Seuss' How the Grinch Stole Christmas
7:45 p.m. — The Santa Clause
9:50 p.m. — The Santa Clause 3: The Escape Clause
11:55 p.m. — Christmas With the Kranks
Sunday, December 23
7 a.m. — The Little Drummer Boy (1968)
7:30 a.m. — Beethoven's Christmas Adventure
9:40 a.m. — Richie Rich's Christmas Wish
11:45 a.m. — Disney•Pixar's Toy Story That Time Forgot
12:15 p.m. — Santa Claus Is Comin' to Town
1:20 p.m. — The Nightmare Before Christmas
3 p.m. — Christmas With the Kranks
5:05 p.m. — The Santa Clause
7:10 p.m. — The Santa Clause 3: The Escape Clause
9:15 p.m. — Dr. Seuss' How the Grinch Stole Christmas
11:55 p.m. — Life-Size 2: A Christmas Eve
Monday, December 24
7:30 a.m. — Richie Rich's Christmas Wish
11 a.m. — Mickey's Twice Upon a Christmas
12:30 p.m. — The Nightmare Before Christmas
2:05 p.m. — Jingle All the Way 2
4:10 p.m. — Disney's A Christmas Carol
6:15 p.m. — Dr. Seuss' How the Grinch Stole Christmas
8:55 p.m. — The Santa Clause
12 a.m. — The Santa Clause 3: The Escape Clause
Tuesday, December 25
7 a.m. — Disney's Prep & Landing
7:30 a.m. — Disney's Prep & Landing: Naughty vs. Nice
8 a.m. — Mickey's Twice Upon a Christmas
11 a.m. — The Nightmare Before Christmas
12:40 p.m. — Disney's A Christmas Carol
2:40 p.m. — Christmas with the Kranks
4:45 p.m. — The Santa Clause
6:50 p.m. — The Santa Clause 3: The Escape Clause
8:55 p.m. — Disney's The Lion King
12 a.m. — Disney's The Lion King II: Simba's Pride
xx, The FabFitFun Team