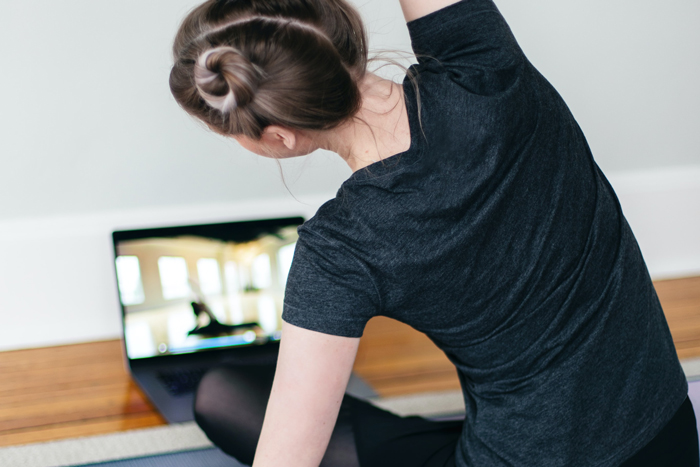 Feature Image by Kari Shea
Are you struggling to find the inspiration to workout lately? Because same. However, nothing gets our feet moving and our heart thumping quite like a workout that's free ninety-nine.
If you're in search of some online workouts that make it easy to stay at home, save money, and get fit, you've come to the right place. We're sharing five of our favorite free workouts that you can access online right now!

Cassey Ho of Blogilates is truly inspiring and has been offering amazing pilates-style workouts since before vlogging and online workouts really existed. While you can experience some of her POP Pilates®, she also offers a hub of challenges, apparel, and blogs that guide you through your personal fitness journey.
---
From workouts that target your glutes to full-body bangers, Chloe Ting's workouts will have you working up a sweat. Plus, she is so inspirational throughout the entire process. As a bonus, she showcases videos of others who participate in her #ChloeTingChallenge, and some of them are hilarious and totally relatable.
---
While a traditional ClassPass membership does require that you cough up some moolah, their collection of workout videos on demand does not. You can access over 4,000 free on-demand online workouts. No matter your skillset or interest, you can experiment with workouts ranging from HIIT and strength training to yoga and barre.
---
MadFit is another YouTube sensation who has completely taken the channel by storm with her amazing workouts and invaluable expertise. Let's be real, it's hard to get in a full 45-minute workout every single day. MadFit makes it easy by offering segmented videos that target specific areas of your body, all from her home too. While some of the workouts are intense, she also offers dance party workouts that get you movin' and groovin'. And if she wasn't already doing enough, she offers a line of cookbooks that are oh-so-yummy.
xx, The FabFitFun Team