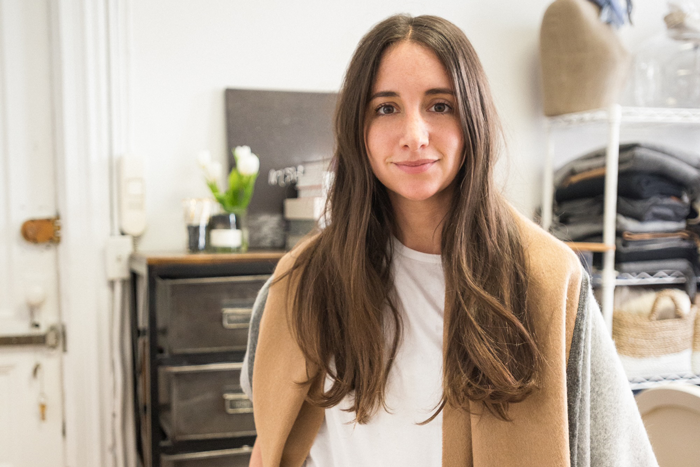 SPRING 2020 BOX PARTNER
This season, the female founders behind the Spring Box are diving deep into the pivotal moments in their lives that helped them get to where they are today.
Alyssa Wasko, founder and designer of DONNI., gets candid about how her dad's passing fueled the start of her business.
Most businesses are based on plans, but some are born from surprises or tragedy. DONNI. was a result of the latter. During my sophomore year of college, I lost my dad to a sudden accident.
I wasn't prepared for the loss, let alone the confusion and anger that came along with it. So, I started making scarves, which served as a sort of coping mechanism and an escape from losing him. Scarves were an easy way for me to look put together when I felt anything but, and there was just this comfort to them — emotionally and physically. I began churning them out.
I remember this one day in May when I had piles of scarves covering every surface of my living room and there was a line of girls outside my door who were eagerly waiting to buy them. I sold every single scarf within 20 minutes. It was then that I realized I may have a real business. While these scarves were expressions of my pain, they actually became something people cherished for their own reasons, and that always struck me.
Now, every bit of growth since that first scarf has been a milestone in my own healing process. From naming the brand after my dad to facing production mistakes and expanding into new product categories, each phase has marked a different point in my healing. Not all days are good or easy, and it doesn't get easier as people typically think.
There are always hard days that knock you down, but it's important to embrace them because that's when the growth happens. Overall, the goal is simply to make people feel good — not only the people that purchase and wear DONNI., but also the people who have built the brand and been by my side. I've come to realize the products get better as I continue to face my own pain, and this self- growth shows in the seams and in the fit. And the best thing I can do for my team and for the DONNI. customer is to continue to heal me.
xx, Alyssa Wasko
Want to read more stories from female founders? Click here to learn why this founder found it crucial to always have a 'yes' mentality.