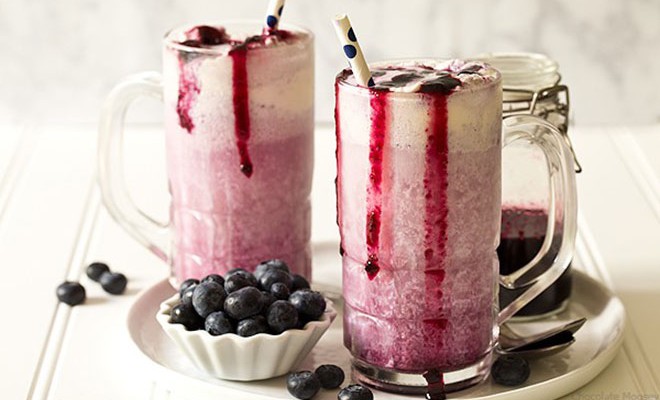 chocolatemoosey.com
Ice cream and soda floats are one of our favorite desserts to beat the heat.
Whether you want to give yours a boozy twist or just stick to the basics, ahead are 10 recipes that you'll want to whip up before you bid adieu to good ol' summer.
Strawberry Float
This float is almost too pretty to drink. Use strawberry ice cream if you want to stick to a pink theme, or go with vanilla if you want something more traditional.
---
Blueberry Cream Soda Floats
This float may not help with our clean eating regime, but it's definitely worth a cheat meal. The added seltzer makes it super airy — perfect for a hot summer night.
---
Adult Root Beer Floats
Give your root beer float an alcoholic upgrade. Simply grab some vanilla ice cream, a few bottles of Not Your Father's Root Beer, frost your mugs, and grab a few toppings to bring it all together.
---
Raspberry and Aperol Floats
Skip the Aperol Spritz and go straight for the float. This gourmet beverage takes a bit more effort than the rest on this list, but trust us…it's so worth it.
---
Chocolate Chip Cookie Dough Ice Cream Float
You don't have to risk salmonella to get the wonderful taste of cookie dough. This float combines everyone's favorite mix with root beer and ice cream for an amazing, fizzy dessert.
---
Boozy Baileys Milkshake
Combine the tastes of childhood with your favorite booze for this adult-approved drink. This float also calls for the Choco Taco, which adds a nice nostalgic touch.
---
Root Canal Float
This boozy drink is a delicious and unexpected way to get a little tipsy. All you need is root beer, Jack Daniel's, and vanilla ice cream to experience this bombshell of a float. Cheers!
---
Cold Pressed Watermelon Soda Floats
This float is one of the tastiest on the list and happens to be the healthiest. The watermelon balls are a nice addition and an easy way to get a serving of fruit. Even better, you don't have to feel guilty when you go back for seconds.
---
Bourbon Ginger Beer Float
This recipe is from the beverage experts at Bourbon & Branch in San Francisco, so it's sure to be an instant fave. The mix of ice cream, whiskey, and ginger beer is delicious and light — making it the best dessert ever.
---
Mint Chocolate Chip Whipped Float
This float-milkshake combo might be one of the greatest things we've ever tasted. This recipe lets you choose your soda based on which flavors you would like more of. Top it off with whipped cream for the finishing touch.
xx, The FabFitFun Team