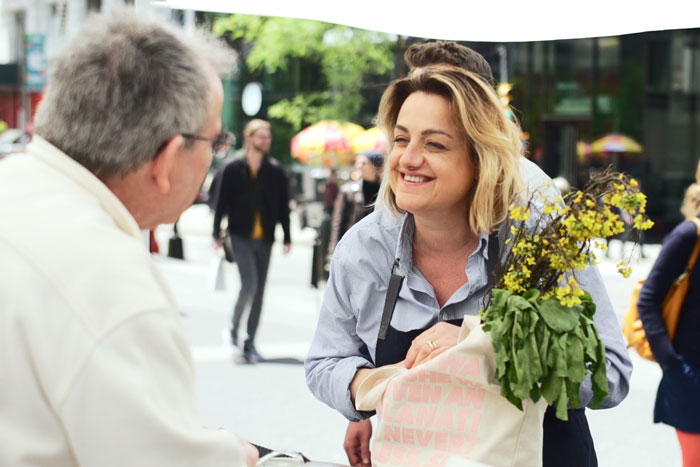 Anyone who's committed to a healthy lifestyle knows that clean eating can get boring. Your meals start looking the same, tasting the same, and, eventually, food just no longer excites you. But before you think about throwing in the towel, head over to FabFitFunTV for a whole new lineup of healthy and delicious recipes.
One chef you need to check out on FFFTV is Silvia Baldini. She's a classically-trained chef (she grew up in Italy, need we say more?), a TV personality, founder of Silvia Baldini, and she's the first professional woman chef in Connecticut to win Chopped, an award-winning show on Food Network. She believes that food is medicine, and the recipes she creates always reflect that. Who wouldn't want to try out her healthy take on french toast and dark chocolate?
Check out what top chef Silvia Baldini had to say about where her inspiration comes from, how she finds time to cook on a busy schedule, the kitchen item you should splurge on, and more.
Why did you partner with FabFitFunTV?
I absolutely love the vibes and the energy of FabFitFunTV. I believe we share the same vision when it comes to food, cooking, life, and awesome women. I cook energy-packed meals that are crammed with superfoods and other powerful and nutritious ingredients — I can't think of a better place than FFFTV to cook my recipes and showcase my power food.
Where do you find inspiration to create new and original recipes?
I grew up in Italy playing with little snippets of pasta, and I spent time cooking with my mom and with all the talented women that hung around our kitchen. My mom and these gorgeous women were my first inspiration. I find inspiration for my recipes through my Italian heritage, but I also [find it] in my travels — whether it's from the kitchen I worked in or all of the chefs I've had the privilege to cook with.
What has been your favorite meal to cook as of late?
My favorite meals are the ones that are nourishing and that everyone can enjoy. Some of my favorite winter meals include my simple honey tangerine chicken and my ginger turmeric chickpeas braise. Of course, I enjoy shaking things up during the holidays, and I'm pretty partial to my candy crush cocktail and the kombucha Aperol spritzer.
Any advice for working women who can't find time to cook?
I advise women to get help — recruit kids, husbands, and partners on the weekends to help prep, cut, and clean ingredients. It also helps to cook easy, uncomplicated meals with fresh, local ingredients. But most of all, have fun and don't stress!
How did you get into cooking?
Following a distinguished and award-winning career as an art director on Madison Avenue, I decided I wanted to explore cooking and trained at ICC in New York and Cordon Bleu in London. When I got back to the U.S., I competed on Chopped (a cooking competition on Food Network) and became the first professional woman chef in Connecticut to win Chopped. The rest is history.
What are five ingredients you always have in your fridge/pantry?
I can't survive without crunchy greens, good olive oil, parmesan cheese, a box of good pasta, garlic, and red chili. If you have those in your pantry, you are never more than eight minutes away from a good, wholesome meal (or my fabulous hangover pasta!).
What kitchen item is worth investing in?
I believe everyone should invest in a good chef knife. Not necessarily an expensive one, but rather a perfectly sharp one. Also, I like to have a good pair of scissors close by. Oh, and a cute pink apron because life is too short for boring aprons.
xx, The FabFitFun Team