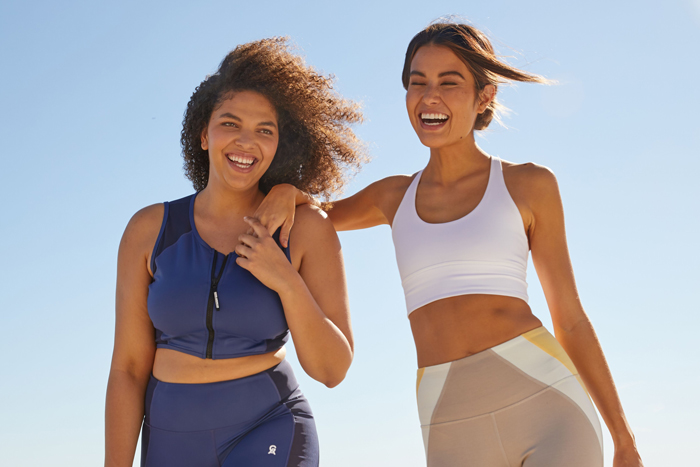 SUMMER 2019 BOX PARTNER
We have the honor of working with amazing women from box to box, and the Summer Box is yet again no exception. Since summer is all about letting loose, we asked 16 #bossladies when they feel the most uninhibited and the most fearless. Take notes!
P.S. If you want to discover more amazing female-founded brands, make sure to sign up for FabFitFun. Use code SUNFUN at checkout for 10% off your first box.
I feel most fearless when…
"I am most fearless when I have the support and trust of my team and my family. Look, people make mistakes. That's a part of life. And it's those mistakes that allow us to learn and evolve. It's what builds tenacity, strength, and grit. But it's so much easier to allow yourself to take risks and be truly fearless when you have your people in your corner." – Katie Echevarria Rosen Kitchens, Co-Founder and Editor-in-Chief of FabFitFun
"Most of my mornings are spent feeling fearless and free, particularly when I walk my son to school. I never miss this precious time with him as it's the only time we have just the two of us. When I return, I sit down and spend five minutes writing in my journal, planning my goals, and reinstating my blessings for the day ahead." – Eva Alexandrides, Co-Founder of 111SKIN
"I'm embarking on something that I know is right: family, business, philanthropy, health, fitness, friendships, or any great obstacle. I try not to take everything too seriously. [If I fail], at least I will always know that I tried my best." – Janet Crown, Founder and CEO of Burn 60 Studios
"I'm wearing my most fabulous shoes because who knows where they can take you?" – Kiki Yang, Head of Global Sales of Generation Clay™
"I'm outside of my comfort zone. In this zone is where I've experienced the most growth." – Jennifer Zeuner, Owner and Designer of Jennifer Zeuner Jewelry
"I think it's a combination of two things: confidence in my past successes and support from the company's ownership in being able to take chances. When you take pride in your achievements, it gives you a measure of reassurance when faced with new or challenging problems because you know you tried and succeeded in the past." – Naama Abraham, Content Marketing Director of Sutra Beauty
"I get a spur of motivation from a story I read or hear, and it reminds me that we can and need to push more if we achieve more. That's when I open myself to be willing to take more risks." – Sophie Trilles-Tvede, Co-Founder of invisibobble®
"I am following my instincts. If you feel strongly about something, follow your heart and go for it!" – Paula Hermanny, Founder and CEO of ViX PAULA HERMANNY
"I am following my intuition." – Felicia O'Brien, Director of Sales of Intelligent Nutrients
"I've done something completely out of my comfort zone." – Kailee Fatt, Co-Creator of grace & stella
"I feel the love and support of those I hold dear." – Heather D. Rogers, Certified Dermatologist and Founder of Doctor Rogers
"I am with my husband and my two boys. They always bring out the best in me and make me feel like I can do anything." – Aimee Werner, Founder of Whish Beauty
"People say I can't do it. Well, I can and I will show you!" – Heela Yang, CEO and Co-Founder of Sol de Janeiro
"[I'm] in moments of both glory and failure. I fully enjoy and savor moments of accomplishment. Ironically, I feel fearless at the moments of epic failure [because] I don't have anything more to lose. I become bold." – Dr. Soo-Young Kang, Vice President of Research of Living Proof
"Honestly, nothing's made me feel more fearless than when I gave birth to my son. Childbirth is just one of those things [when] once you make it through, other physical, emotional, [and] psychological feats just don't seem to be as scary!" – Tara Rasmus, Co-Founder of Odeme
"I don't think I can face one more obstacle without breaking, and yet I do." – Mykella Gannon, Marketing Director of COOLA
xx, The FabFitFun Team