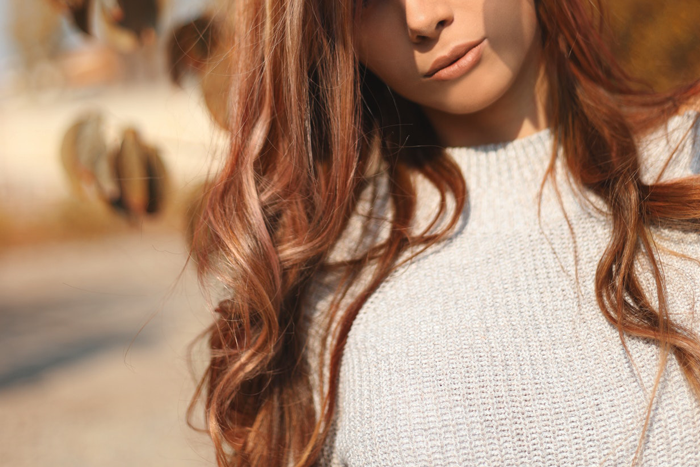 Headed to the hair salon for a seasonal refresh? Before you commit to a color, check out what hair experts had to say about this season's hottest hair color trends.
From inky blue-black shades to smoky chestnut hues, these are the hair colors you should consider for fall.
View this post on Instagram
Warm Blondes
"There are some softer, more natural trends emerging in the blonde category. So as the weather cools down, we're seeing a lot of strawberry golden and warm-toned blondes. I recommend to clients to ease up on the bleach work and get a little deeper with the toning to help create a subtle transition that can easily move into something lighter once the seasons warm up again," says Tyson Daniel, master stylist, salon owner, and SEVEN Haircare platform educator.
---
View this post on Instagram
Chocolate Rose Gold
"Our ombre girls with deep brown bases and warm-to-ashy highlights might want to take it down with chocolate rose gold tones for a fresh flavor. Keeping the hair's pH balance in check is very important when trying to maintain deep, rich colors. Opt for a spray to smooth out the hair's pH level, close the cuticle, and provide a great foundation for other products," says Daniel.
---
View this post on Instagram
Flannel Hair
"The flannel hair trend is big for this fall because it includes all of the rich colors that make everyone's favorite shirt: a flannel. It usually contains deep reds, browns, blacks, and oranges. Now imagine a blend of these colors through the length of your hair, and this is what creates the flannel hair trend," says Tiffanie Richards, master colorist of Nunzio Saviano Salon.
---
View this post on Instagram
Smoky Chestnut
"This fall, it's all about adding cool, smoky glazes to brassy, faded-out summer locks — especially for cool skin-toned brunettes," says Daniel.
---
View this post on Instagram
Inky, Blue-Black
"In the category of very dark hair, we're noticing cool blue-lights taking over. This is achieved by putting a direct dye on top of a very dark brown or black hair, which gives it a very striking fashionable look when the light hits the surface," says Tyson.
---
View this post on Instagram
Cold Brew Coffee
"Coffee-inspired colors are having a moment. It's a trendy way to go warmer and richer for fall as it complements most skin tones, rich fabrics, and deeper wardrobe tones. Think warm brown tones with a hint of cocoa," says Richards.
---
View this post on Instagram
Icy Platinum
"Platinum seems to endure all ages and trends. For most people, however, platinum is challenging to maintain. If you have any underlying darker colors, it is going to pull that perfect coolness toward brassy yellow or orange. You need both repairing and toning products, so investing in at-home hair care is essential if you're going this bright and light," says Daniel.
Which fall hair color will you be rocking this season? Let us know in the comments below!
xx, The FabFitFun Team