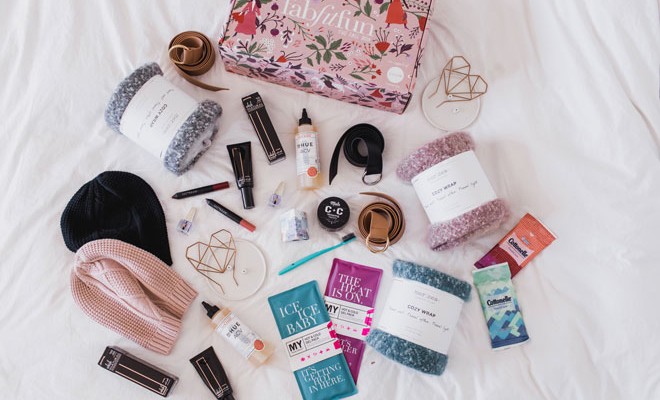 One question people always ask me is how do we pick products for each box.
It's hard to answer because we're constantly evolving the process to give you a better experience each season. But I thought it would be fun to give you a quick, behind-the-scenes look at why these items made it in!
Seasonality
This is huge for us. When I think fall, I think comfy, cozy, and fashion-forward. As the weather gets cooler, the soft, lush, and oversized Mer-Sea & Co. Scarf is going to be your go-to accessory.
What members want
I'm addicted to reading box surveys, community posts, and social comments. You guys asked for more fitness and that's what you're getting. We partnered with the Insta-famous PRIVATE PARTY on a cute denim gym bag that will make you want to hit the gym (or at least look like you did), and we included a hot and cold gel pack from MYTAGALONGS when you go a little too crazy at the barre to make up for that seventh pumpkin spice latte. Not to mention, we've got a slew of new workouts on FFFTV.
Cutting edge
We're always on the hunt for the next best beauty innovation and this season we gave members the opportunity to pick between two effective, new trends: the dpHUE Apple Cider Vinegar Hair Rinse and the Molr Dental Club Organic Carbon + Coconut Teeth Whitening Powder and Toothbrush.
Made in the USA
While we do scour the world for the best products, we also love featuring brands made in the U.S. Whish Beauty, dpHUE, and Deco Miami are all made right at home.
Female first
It's hard to be a woman in business and that's why we love showcasing female-founded brands like B-low the belt, Deco Miami, MYTAGALONGS, dpHUE, Mer-Sea & Co., trèStiQue, Whish Beauty, and The Jetset Diaries.
And while they're not a product, I am so thankful to partner with UNICEF USA, a truly amazing nonprofit that has helped save more children's lives than any other humanitarian organization by providing health care, clean water, nutrition, education, emergency relief, and more.
I think you're gonna love this box as much as I do. Happy pumpkin spice season to you all!
Katie Ann Rosen Kitchens, Co-Founder
@katieakitchens
P.S. Psst! Have you signed up for the #FabFitFun box yet? Don't miss out on $200+ in amazing beauty, fitness, fashion, and lifestyle products every season. Join today!
To get the most out of your box products, make sure to check out the Insider page.