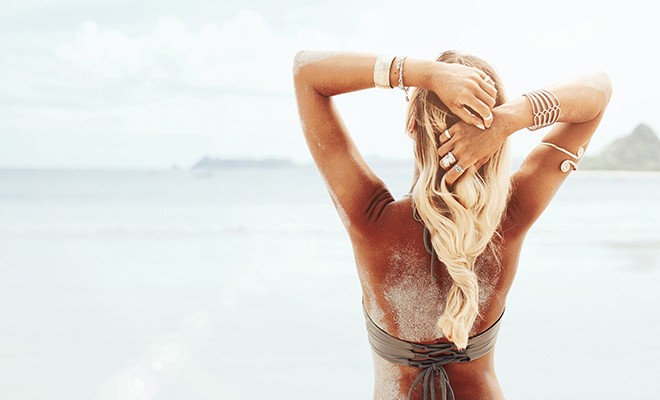 We might be smack dab in the middle of spring yet we've already got summer on our mind. Can you blame us? Beach babe or not, we can't wait to get our tan on, dip our toes in the ocean, and frolick in the sand!
As we helplessly dream about summer, ahead you'll find what we'll be packing in our beach tote:
Gypsy 05 Roundie $50
Nothing beats this color combo. The pastel hues and the subtle fringe detailing makes this quite possibly the most fashion forward beach towel on the market (and it's in the FabFitFun Spring Box!). It's perfect for a beach day with your girls or if you just want to lay out in the sun.
---
S'well Opal Marble Bottle $35
Although marble has been incredibly popular lately, we're loving the opal spin on this bottle. It's easy to forget to stay hydrated at the beach, but with a water bottle as cute as this, you'll be dying to sport it on your day out.
---
Purlisse PurProtect SPF 30 $55
You might recognize this from a past FabFitFun box, but this wonder is truly one of the best SPFs we've tried. It's hydrating, doesn't leave a chalky finish (you know what we're talking about), and absorbs into the skin so you don't end up looking like a grease ball.
---
Ale by Alessandra Sancho Hat $66
We're obsessed with this hat from Alessandra Ambrosio's fashion line…how could we not? The wide brim will help block out some of the sun's harsh rays and the woven straw will pair effortlessly with all of your beachy outfits.
---
Milly Zip Pouch $55
After a dip in the ocean, you're going to need somewhere to store that wet bikini. Instead of opting for a plastic bag, go for the Milly Zip Pouch (featured in the FabFitFun Spring Box). The inner lining is waterproof which will definitely come in handy. You can also use it to hold your smaller beach essentials like sunscreen, lip balm, and even your keys!
---
Hat Attack Striped Bag $87
You're gonna need somewhere to stuff all of your beach essentials, and this bag will help you look cute doing it. The tote screams summer with the simple stripes down the middle and the neutral shade (this one's a must!).
---
Mood and Melody Washed Blue Dress $52
Talk about the perfect dress for a beach babe! This piece can be dressed up or down, but it's especially great for a day at the shore. Pair it with cute sandals during the day, then swap it for some heels for an oceanside dinner.
---
Target Scalloped Bikini Top & Bottom $50
Since we can't exactly shell out the money for a Marysia bathing suit that all the starlets are wearing, this Target alternative is a fantastic dupe (you would never know the difference!). Choose between a classic black and a fuchsia pink for all your swimwear needs.
---
Ray-Ban Round Sunglasses $150
Sunnies are one of our favorite accessories to rock. These are the hottest sunglasses right now and we can't deny our love for them. You can't go wrong with a timeless design from a classic brand!
---
Fresh SPF Lip Balm $25
Slathering SPF all over your face is important, but don't forget your lips! This one's in a neon orange color so it'll be hard to miss. Pucker up with a delicious lip balm that will leave your lips feeling butter soft.
What's in your beach bag? Let us know in the comments below!
xx, The FabFitFun Team