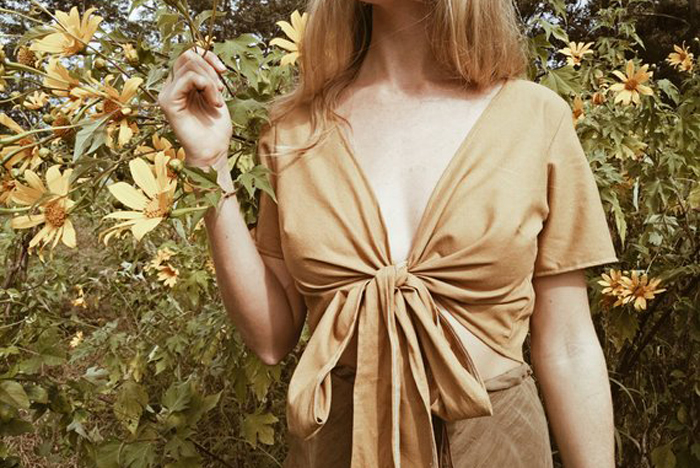 Feature Image by In the Desert
Etsy is basically an online haven for lovers of handmade, vintage, custom, and out-of-the-ordinary goods. But did you know that the site also offers a plethora of sustainable clothing options for ethically-conscious shoppers?
Sustainable fashion is more than just a trend; it's a way of life that helps protect the planet (while looking stylish, of course). Thanks to Etsy's laundry list of eco-friendly sellers, anyone can build a waste-free wardrobe. Browse through some of our favorite sustainable clothing accounts below.
Inspired by the elements of nature, mother-son duo Gitana and Aidas Vyšniauskas creates unique and luxurious silk garments including jackets, dresses, and kaftans.
---
If you're looking for a fashionable line with an empowering messaging, then look no further. Labeled as "upcycled and expressive clothing," the owner combines secondhand clothing with poetry, art, and words of encouragement to promote body positivity and zero waste.
---
Perfect for the green shopper, all of their clothing and textiles are handmade and dyed using various plants and toxin-free processes. The shop's mission? To reduce waste, upcycle old fabric, and help reduce the toxic chemicals used in fashion production.
---
All items are made from organic linen and sourced from a local factory in Lithuania. Shop wide-legged trousers, ruched dresses, flowy cardigans, and even tableware like table runners, napkins, and coasters.
---
If you're going for the casual, cool-girl vibe, shop at The Sol Experience where all items are made from organic linen. You'll find graphic tees, trendy tanks, and even some unique jewelry pieces.
---
Founded in Lithuania, this is a one-stop shop for fashion-lovers who are obsessed with simple and elegant pieces. Not only that, each item is handmade with only the highest quality materials to reduce textile waste.
---
What started off as just a dream in 2007 has now become a team of seven entrepreneurs. You'll find hand-sewn, hand-dyed, and nomadic and utilitarianism-inspired clothing made with organic fabrics and earth-friendly dyes.
---
In the Desert is bringing a little Australian sunshine to Etsy shoppers with its high-quality, eco-friendly, and affordable wrap tops. All designs are individually handmade with ethically-made fabrics.
---
This U.K.-based shop offers shoppers stylish clothes that are ethically-made with bamboo, organic cotton, and recycled fabric. You can grab a little bit of everything here – belts, hoodies, scarves, bags, and more.
---
From the flowy materials and neutral tones to the symmetrical patterns, this modern Indian Etsy shop will leave you wanting more. Plus, the shop focuses on slow fashion by incorporating sustainable design and manufacturing methods.
Looking for more ethical clothing options? Here's everything you should know about vegan leather.
xx, The FabFitFun Team