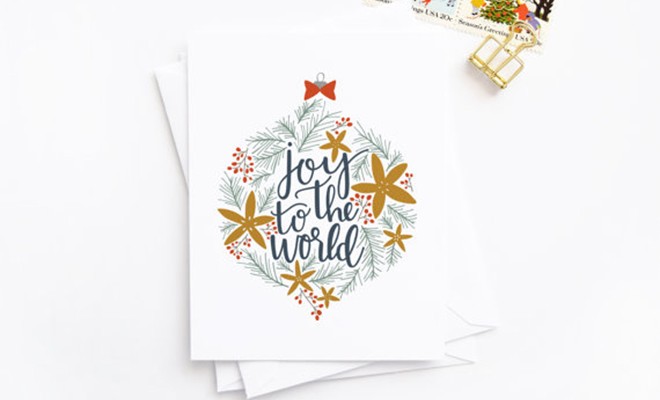 Love the thought of handmaking a gift for your friend, but don't have the time or skills to actually do it? Enter Etsy.
We scoured the site to find the cutest gifts you can give your girls and family this winter — with that handmade touch you were looking for. From jewelry to prints, there's a gift for everyone on your list.
JewelryHills Rose Gold Nameplate Bracelet $19-27
This dainty rose gold bracelet is perfect for any friend that loves jewelry. You can get any name engraved on it, so choose her name or a quote that's special to your friendship.
---
Riverside Bridal Personalized Whiskey Glass $11.50
Do you have a friend in your life that loves whiskey? Well, now you can get them their own personal glass. If they're not a whiskey fan, you can also choose from wine glasses and pints.
---
Leaf & Letter Merry & Bright Watercolor $10
Though this festive watercolor painting is perfect for the holidays, it will also look amazing on the wall all year long. It's the perfect gift for that person who's moving into a new home or who just loves home decor.
---
Swanky Badger Design iPhone 7 Case $29.99+
Not only is this a useful gift, it's also sweet and personal. You can have your friend or S.O.'s initials engraved on the front of the wallet case, as well as a message inside.
---
Print Stitch & Paste Christmas Card Set | Illustrated Ornament $10+
These cards are perfect for the holidays! Your friends will appreciate a beautifully handwritten card to go along with their gifts.
---
FreshyFig Small Marble Triangle Necklace $23.50-33.50
This dainty necklace is handmade out of marble, giving it a unique touch. It's the perfect combo of edgy and chic, and so easy to style with any holiday outfit.
---
Mamooby Feather Bookmark $10.79
Get this beautiful handmade feather bookmark for the avid reader in your life!
---
RoseGoldRebel Hustle Mouse Pad $11.99
Dress up your friend's workspace by getting them this cute mouse pad! It will inspire them every day and bring some life to a bland cubicle.
---
Minimal Bijoux Star and Moon Ring $16.80
Ring sizes can tend to be a problem if you don't want to ruin the surprise factor of a gift, but this one is adjustable! It comes in three different metals and is totally stackable.
---
InstaxShopInstax Album Mini for 120 Photos Fujifilm $18.07
This is the perfect gift for your Polaroid-obsessed friend. Fill up this cute album with Polaroids you've already taken or give it to a friend to fill it up for themselves!
xx, The FabFitFun Team