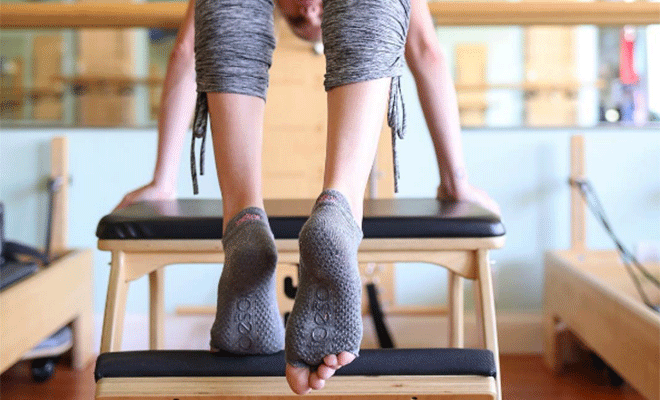 Showing up to a workout unprepared is the worst, especially if you paid the high price tag that comes with boutique gyms.
So before you head out to your barre class, yoga lesson, or spin sesh, make sure your gym bag is packed with all of the essentials. Here's a checklist of our must-haves:
Toesox Half Toe Bella Grip Socks $16
You'll have all of the staying power needed in your yoga class with these extra grippy socks. What's even better than socks that help you stick each and every pose? The fact that you can find a pair in the FabFitFun Fall Box!
---
Summer & Rose Yoga Towel $32
Feel free to spin your heart out when you've got this moisture-wicking towel by your side. Not only does it have major absorption power, it also has a motivational mantra to keep you going. It can also be placed over your yoga mat for extra absorption.
---
FabFitFun Fruit Infuser Water Bottle $19
OK, is this not the cutest water bottle you've ever seen? This vessel is reusable and easy to toss in your gym bag. You can pack it with multiple fruits and veggies for an incredibly thirst-quenching drink.
---
Splits59 Demi Stirrup Leggings $120
Stirrup leggings are sure to stay in place, no matter how you move. Even better? They give you all of the grip you need for slip-free performance every time!
---
Herban Essentials Lemon Towelettes $16
These towelettes are great for sanitizing workout equipment as well as cleansing your face after a workout. The lemon scent is uplifting and boosts creativity and concentration, so you'll be prepared to conquer your day long after the workout is over.
---
ban.do Work It Out Gym Bag $28
You need a gym bag that's as motivated as you are. This one will hold all of your essential workout items and it's easy to stow away in a locker right before your workout.
---
Juil Round Toe Suede Ballet Flats $65.99
Comfy, cute shoes are just the kind of thing you need to slip on after a sweat sesh. These have copper connectors which work to help you feel grounded, so you'll be prolonging the effects of that yoga class as long as you've got these on your feet. Namaste!
---
Playlist Yoga Get Lost In The Flow Yoga Tank $35
A fun, graphic tank will get you in the mood to break a sweat. Reap the benefits of an intense yoga session with this inspirational tank!
xx, The FabFitFun Team
P.S. Psst! Have you signed up for the #FabFitFun box yet? Don't miss out on $200+ in amazing beauty, fitness, fashion, and lifestyle products every season. Join today!
To get the most out of your box products, make sure to check out the Insider page.