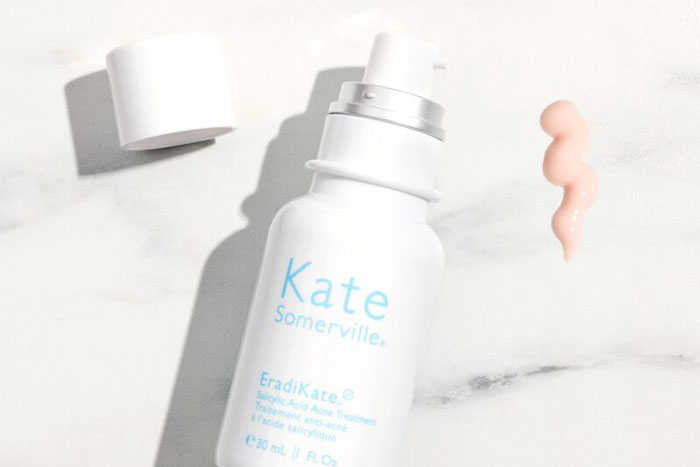 When it comes to taking care of our skin, there are a few things we need to be consistent about to ensure it's in tip-top shape. We asked Kate Somerville, the founder of cult-favorite beauty line Kate Somerville®, to share three steps everyone — whether you're a novice or beginner in skin care — should incorporate into their regimen.
From moisturizing to exfoliating, we're sharing our top product recommendations for each step. You can find them in the World of Kate Sale, which is open to all FabFitFun members on Friday, May 29, at 9 a.m. PT. The sale will feature over 200 items at up to 55% off from Kate Somerville® and kate spade new york, so get ready to stock up on serums, moisturizers, summer totes, jewelry, and more!
If you're not a member, use code HAPPYDAY at checkout for 20% off your first box and access to the exclusive members-only sale.
"Exfoliation"
This is a key step in any skin care routine as it helps slough away dead skin cells and reveal smoother skin. "It takes that top layer of dead skin [away]," says Somerville. "If you remove that top layer of skin gently, you're going to see great results. Then all of your other serums will penetrate in the proper place, [and] it won't penetrate this dead layer of skin. It will really get to where it needs to go."

The most iconic product from the skin care guru's line, this intense exfoliating treatment is formulated to visibly transform texture and pores in two minutes thanks to AHAs, BHAs, and fruit enzymes.

Exfoliate skin overnight with this AHA resurfacing treatment, which is gentle enough for daily use.
---
"Deep Hydration"
Just as we drink water to hydrate our body, our skin needs to be deeply hydrated as well. "This is where most of my clients fall short. Your skin is like a piece of leather – what happens to leather when it's dry and you move your face? It cracks, so if you're not hydrated and you're moving [your skin], you're causing this crack to happen in your skin," says Somerville.

Relieve dryness, tightness, and roughness while restoring the skin's natural moisture barrier on any part of the body.

This moisturizing serum features a powerful combination of age-defying ingredients to create a gorgeous, dewy complexion.
---
"Treat and Moisturize"
You should target specific skin care concerns with the proper treatment. And don't forget to seal in all the serums with a moisturizer. Somerville notes, "I've cleansed, exfoliated, and then every day and night, I hydrate. That is what's keeping my skin youthful. And then I seal it in with a moisturizer that's meant for me."

A bestselling acne treatment, EradiKate uses 10% sulfur to dry out pimples and prevent future breakouts.

Fast-absorbing 100% natural oils work to strengthen the skin's moisture barrier. Combine with your favorite moisturizer for added hydration.
xx, The FabFitFun Team