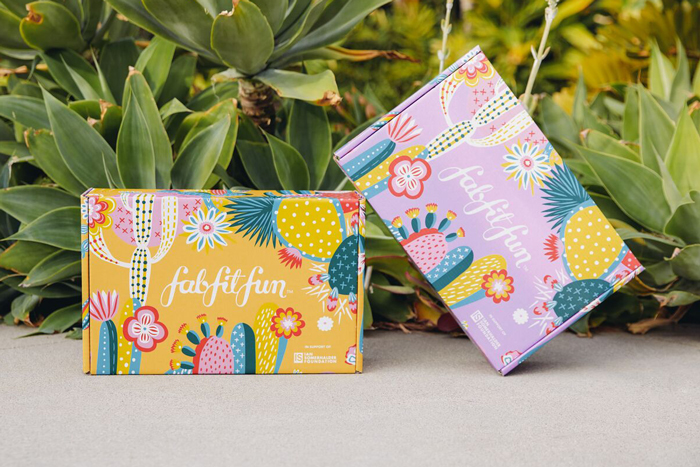 SPRING 2019 BOX PARTNER
I love a good movie makeover. Frumpy magazine assistant Andy transforms into a fierce fashionista. Heart-of-gold Vivian becomes a classy opera-phile. Tomboy FBI agent Gracie morphs into a posh pageant queen. And, of course, an adolescent McDreamy goes from totally geek to totally chic.
Sure, some of it is superficial brain candy, but when Vivian shouts "Big mistake. Big. Huge. I have to go shopping now," there is just no mistaking the incredible power of a good makeover.
So in the spirit of spring renewal, FabFitFun is getting its very own magical makeover. OK, it's not really magic. It was a ton of work. We created hundreds of new logos, placed it on boxes, magazines, and products, changed fonts, swapped colors, tirelessly tweaked a dozen options, and finally settled on something we hope you all will love.
We know that change is inevitable and important. Without it, we can't grow. So we wanted a new logo that was representative of our increasingly diverse and beautiful membership. We think the unique, elevated look is a little symbol of our exciting growth.
But the new logo isn't the only thing we think you will love. This box is stuffed with everything you need to make sure your spring is spectacular. From the gorgeous floral robe and meditation-enhancing electric diffuser to a portable picnic kit and QUAY sunglasses – I don't know how you guys are making your customizations this season. Not to mention, we have eleven amazing female-founded brands, a fantastic partnership with the Ian Somerhalder Foundation, and an incredible giveaway to Punta Cana – we are making spring sing!
Life is getting warmer, happiness is starting to bloom, and we are ready to dive into the new. Follow me at @KatieAKitchens for all the behind-the-scenes FFFun.
xx, Katie Echevarria Rosen Kitchens
Psst! Have you signed up for FabFitFun yet? Don't miss out on $200+ in amazing beauty, fitness, fashion, and lifestyle products, access to exclusive fitness and cooking content on FabFitFunTV, members-only sales, and more. Join today!
To get the most out of your box products, make sure to check out the Insider page.