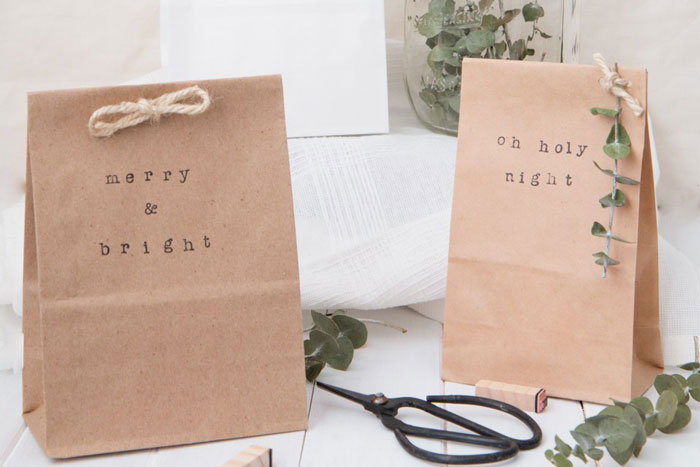 Feature Image by thebeautydojo.com
The average American spends upwards of $900 around Christmas. Yes, it's the thought that counts, but your bank account probably takes a pretty big hit during the holidays.
So give your credit card a break and save some money by making your own gift wrap. It adds a personalized touch to your gift and is completely customizable.
Not sure where to start? Here are seven unique gift wrapping ideas for every DIY level.
Fresh out of gift-wrapping bows? Before you purchase another package, go for a walk or check your own living room for some cute accent pieces. Whether you add a sprig from your Christmas tree or a pine cone you find on the street, it'll add an extra oomph to the gift. Plus, it's so easy — anyone can do it. We also recommend adding mistletoe if it's for that special someone.
This sweet little DIY gets our stamp of approval. Simple brown bags become effortlessly classy with some twine, spirited eucalyptus, and stamps. You can even personalize each bag with the recipient's name.
Gift wrapping has never been more thoughtful than this DIY. Look through your camera roll or your friend's Instagram for some cute shots. Make it extra sweet by choosing a photo that relates to the gift that's inside. Attach a photo of a trip you took to Napa with your BFF to cover a bottle of their favorite wine or use an anniversary photo to pair with tickets to where you and your S.O. first met.
Get the most out of your paper grocery bags with this creative upcycling project. It's the perfect way to wrap that low-impact gift you got for your zero-waste friend.
This is the ultimate hack for a fashionista because this DIY gives you two gifts in one. Use a vintage scarf to wrap the gift you got for your trendsetting gal pal. We're envisioning a red scarf with a sprig of holly for an extra festive finish.
Why settle for generic wrapping paper when you can use something as eye-catching as a map? Chances are, you already have some old, free maps lying around from road trips and past vacations. If not, check out a thrift shop or bookstore to see if they have any unique, inexpensive old ones. You can even pair it with a vintage postcard as the tag!
At the end of the day, the sweetest DIY is the one that has the most personal flair. This deceptively simple DIY lets you write exactly what you want, straight from the heart.
xx, The FabFitFun Team