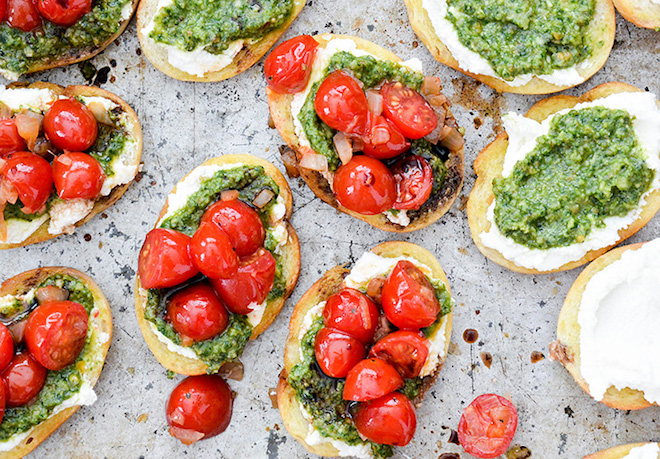 Looking to blow all the other appetizers out of the park at your next party? Bring a variation of everyone's favorite: Bruschetta!
We compiled our favorite recipes that are all guaranteed to be hits among your friends and family. They're cheesy, sweet, and savory — plus, they're so easy to make and you can eat it in one bite. What more could you want in an app?!
Artichoke Bruschetta
Skip the spinach-artichoke dip at your next barbecue and try out this artichoke bruschetta. It's fancy enough for a party and easy enough to make the day of (it's our little secret!). Cheese-lovers won't even know what hit them when they taste this trifecta!
---
Ricotta with Lemon, Basil, and Honey Bruschetta
Jazz up your bruschetta game with this incredible recipe! This honey-drizzled version brings a sweetness you can't resist. You'll love the combination of flavors that fit on the bite-size baguette.
---
Bruschetta with Ricotta and Pesto
Don't want to stray too far from a traditional bruschetta? This recipe is just the one for you! It combines all the traditional components with a little green twist — the pesto brings a whole new level to the flavor game.
---
Strawberry and Goat Cheese Bruschetta
Swap out your boring go-to appetizer for this delectable dish. This recipe screams summer and is waiting to brought to your next party. It's cool, refreshing, and flavorful, without taking up the entire day to make.
---
Greek Salad Bruschetta
You don't have to travel abroad to get a taste of a delicious Greek salad. This bruschetta is easy and fresh and it'll help use up your surplus of garden vegetables. We also love this recipe as a light lunch!
---
Zucchini and Goat's Cheese Bruschetta
Skip the #basic app and get a little crafty in your kitchen. Channel your inner Top Chef when you create this bruschetta delight. The zucchini and goat's cheese go together like two peas in a pod and are still easy to eat in one bite.
---
Beet & Blueberry Bruschetta
Cool down in this summer heat with this sweet, chilled bruschetta. The colors are vibrant and the flavors complement each other to a tee. This fresh plate is the perfect pre-dinner course when you have guests over on a hot night!
---
Skillet Bruschetta with Beans and Greens
Let your inner chef come out when you whip this recipe up. The simple yet truly delicious dish is perfect for nights when there just isn't anything to eat. Use up your leftovers and get an uh-mazing dinner out of it at the same time — that's what we call being resourceful!
---
Roasted Corn and Tomato Bruschetta
Don't let summer end without making this bruschetta variation! Just toast your baguette slices and pile on the delicious mixture of corn, olive oil, and balsamic vinegar. Don't forget to top it off with fresh basil leaves!
xx, The FabFitFun Team