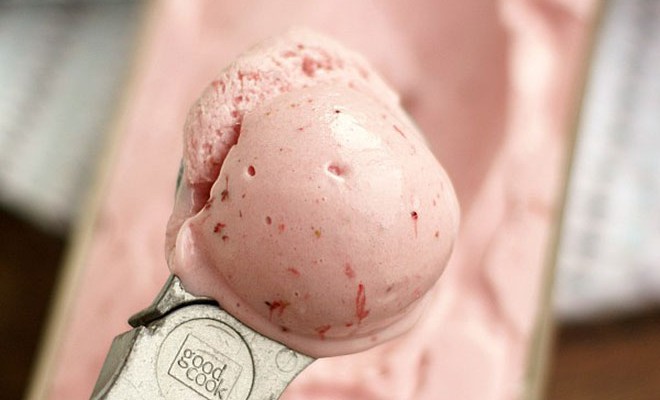 breadandwithit.com
It's a lot easier to avoid dairy these days. Whether you're lactose intolerant, have a sensitivity to it, or simply dislike milk and cheese, the options are endless when it comes to finding recipes that cater to your dairy-free needs — even with desserts!
From brownies and cakes to cookies and ice cream, there's a way to make tasty treats without dairy. Try out a few of the recipes ahead and prepare to fall in love with these dairy-free desserts.
Chocolate Banana Popsicle Recipe
Use coconut milk or any nut milk to keep popsicles dairy-free. Then customize it with your favorite toppings including sprinkles, Oreo cookie crumbles, graham crackers, and more.
---
Chocolate Flourless  Peanut Butter Muffins
Chocolate and peanut butter: a tried and true flavor combo. These muffins are great as both a brunch treat or a post-dinner dessert — but hey, we're not judging if you decide to eat them for both.
---
Coconut Oil Rice Crispy Treats
Who doesn't love a rice crispy treat? With three simple ingredients and no gluten, these are sure to be a crowd fave.
---
Coconut Flour Chip Cookies
The ooey gooey chocolate makes this one extra tasty. Plus, these cookies meet every dietary restriction and can be made 100 percent vegan.
---
Vegan Dairy-Free Strawberry Ice Cream
With summer winding down, you better get your ice cream fix before it gets chilly outside. This strawberry option is sure to hit the spot.
---
Lemon Bars
These bars scream fresh and fruity and are perfect year-round. Opt for a gluten-free shortbread crust for your celiac friends — this delicious recipe is nothing short of sweet.
---
Angel Food Cake Cupcakes With Strawberries
This cake takes a little effort, but trust us when we say that the light, fluffy goodness is worth every bite.
---
7-Ingredient Vegan Cheesecake
You'll go nuts for this date and walnut crusted "cheese" cake. This healthier alternative to a traditional cheesecake recipe might even convert your dairy-obsessed friends.
xx, The FabFitFun Team