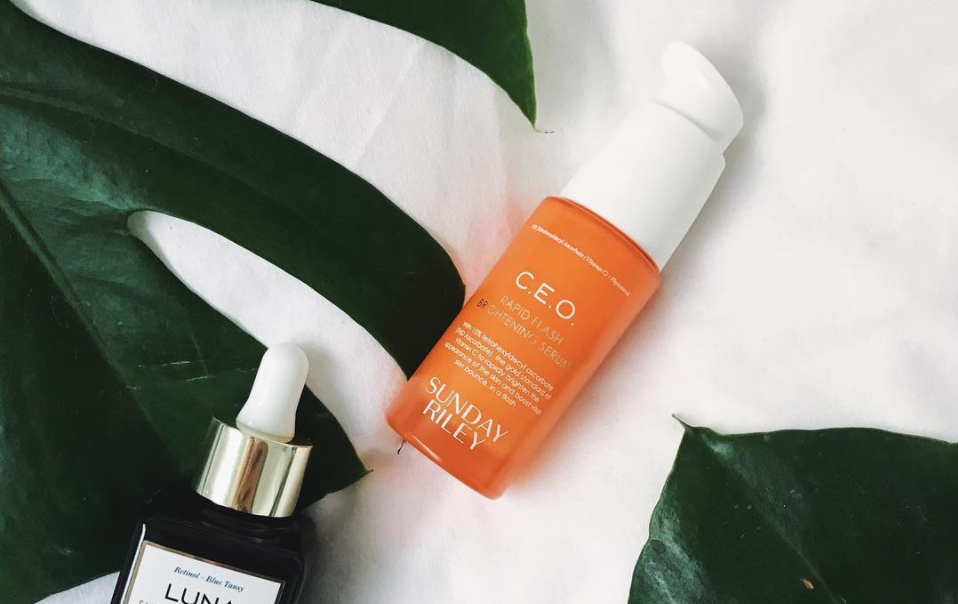 Feature Image by Sunday Riley
In the long, hard-fought battle against wrinkles, your enemy is actually your strongest ally! We know, we know, you're probably thinking, "huh?" But allow us to explain.
Collagen, a long chain of amino acids in our bodies, constitutes of approximately 25 percent of protein in the human body. A large part of our skin, dermis, and epidermis is made up of it, and over time collagen production slows down, leading to the appearance of sagging and wrinkles.
So how do we fight that? With more collagen. It's crucial to maintain proper amounts of the powerful protein in your body to preserve youthful healthy skin.
Here are some of our favorite beauty products to keep collagen boosting through your skin cells all year long.
Sunday Riley C.E.O. Rapid Flash Brightening Serum $85
Vitamin C is proven to be a vital source of a collagen boosting antioxidant. This serum, in particular, has a whopping dose of 15 percent THD ascorbate (vitamin C)! The serum not only protects the skin from UV damage, but also aids in collagen production while making the skin bright, radiant, and youthful.
---
Mad Hippie Eye Cream $24.99
Knowing that collagen in the body is made up of a long chain amino acids, it's also good to understand that when broken down to smaller molecules, these collagen chains become peptides. This eye cream is loaded with peptides and antioxidants that signal your skin and body to produce more collagen.
---
Kiehl's Ultra Facial Cream SPF 30 $27.50
This humectant face cream from Kiehl's helps draw moisture from the air around you and keeps your skin retaining hydration throughout the day. This SPF moisturizer keeps the skin protected from UV rays and a dry environment, which are key in helping the skin maintain collagen and elasticity.
---
Mario Badescu Super Collagen Mask $18
Mario Badescu's enriched collagen mask works wonders at keeping the skin bouncy and supple any time of the year! Suitable for all skin types, the mask provides ample amounts of hydration and anti-wrinkle ingredients that everyone should get their hands on.
---
Vital Proteins Collagen Beauty Water $49
For those of you really committed to building more collagen in the body, taking supplements is a great way to do so. This Vital Proteins powder includes snapper scale collagen peptides and Bacillus coagulans that help maintain firm and supple skin. Hyaluronic acid, probiotics, and organic fruit complex give this collagen powder unique hydrating, healthy, and tasty qualities.
xx, The FabFitFun Team