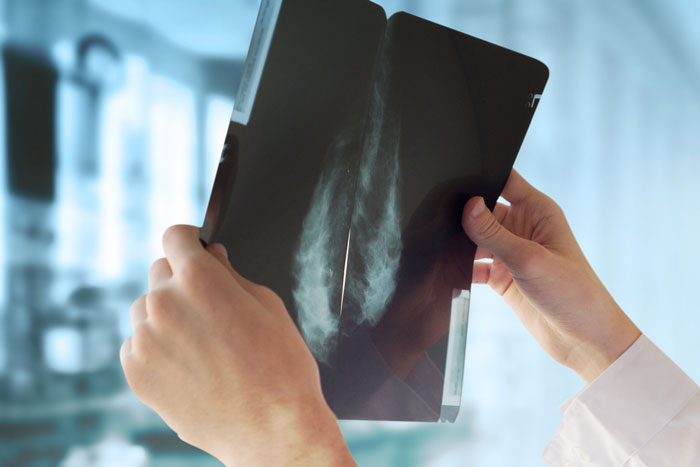 FALL 2018 BOX PARTNER
One in eight women will develop invasive breast cancer, which means about 266,000 new cases will be diagnosed in 2018. That's why it's important to stay on top of early detection and diagnosis to keep treatment options as effective and responsive as possible.
But with so many myths surrounding breast cancer, many don't prioritize breast cancer screenings — luckily, Right Action for Women is working to change that. Founded by actress Christina Applegate after her own personal journey through breast cancer, she's passionate about educating women on what "risk" means. Additionally, RAW offers financial assistance for MRI breast cancer screenings and a breast cancer risk quiz to help determine next steps.
Below, RAW helps debunk the most common breast cancer misconceptions.
"Breast cancer is genetic"
Turns out, only five to 10 percent of all breast cancer cases are thought to be caused by an inherited genetic mutation. This means that the remaining 90 to 95 percent of cases are caused by other risk factors — many of which are often unidentifiable.
"An inherited BRCA gene mutation means you will develop breast cancer"
Yes, if you inherit the BRCA gene mutation you're at a higher risk than the average woman, but that doesn't mean it's definite. Even if you inherit the BRCA gene mutation, you have a 20 to 40 percent chance of not developing breast cancer.
"Only women develop breast cancer"
The belief that men can't develop breast cancer couldn't be further from the truth. Men with BRCA mutations have increased risk for male breast cancer as well as prostate cancer. If there's a family history that suggests increased inherited risk, it's important that men consider genetic testing.
"If you test negative, you will not develop breast cancer"
Just as an inherited BRCA gene mutation doesn't completely determine whether or not you'll develop breast cancer, the same goes for testing negative for the BRCA gene mutation. Even if you test negative, there are inherited risk factors other than BRCA mutations that can put you in a high-risk group. The best way to determine your risk is to consult a health care professional.
"Breast cancer genes come from your mother's side"
Abnormal BRCA genes can come from either your father's or your mother's side of the family, so it's important to talk to them about your family's history with cancer.
To learn more, visit rightactionforwomen.org.
xx, The FabFitFun Team
This information is intended for educational purposes only. If you have any questions about your breast cancer risk or think you may be in higher-than-average risk group, please consult a health care professional.