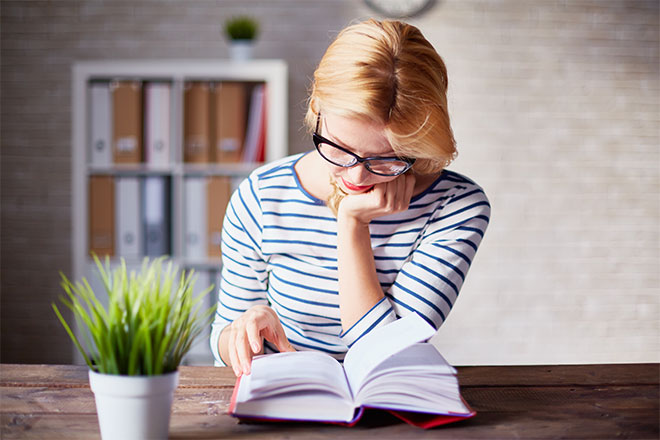 With summer just around the corner, we're gearing up for weekend getaways filled with sunshine, good wine, and a beach read!
And we're in luck because there are so many great books on our must-read list — and we're sure you'll also be looking forward to diving into the 10 books below.
Truly Madly Guilty by Liane Moriarty $16.19
Moriarty is a genius novelist. She delves into the lives of three happy families and throughout their interactions portrays how easily we can live our lives and not appreciate it — until it's too late. Her latest novel is available for preorder now and is sure to be a hit with bookworms this summer.
---
Me Before You by Jojo Moyes $6.83
The film was recently released in theaters but we suggest you read this love story before heading to the cinema. Louisa has nothing in common with Will who is wheelchair bound. But soon enough, they find themselves falling head over heels with each other as their relationship continues to develop.
---
The Outliers by Kimberly McCreight $11.16
As avid followers of Reese Witherspoon (and her book club), we couldn't help but notice her affinity for this novel. If Reese loves it, we're bound to love it, too! Get ready for a thrilling novel which dives into the relationship of Wylie and her best friend Cassie who's in trouble…or is she?
---
Rich and Pretty by Rumaan Alam $20.41
Have you had a best friend for ages that you've known for so long but you've never had a second thought when it comes to evaluating your friendship? Rich and Pretty takes you on a coming-of-age story about the paths of friendship once you leave childhood and enter adulthood.
---
Not Working by Lisa Owens $17.77
What happens when Claire quits her job in hopes of finding her true passion and self? Owens delves into this reflective situation which shows Claire who she really is –both the good and the bad– as she forges her own path in the world.
---
Wreck and Order by Hannah Tennant-Moore $17.14
In Tennant-Moore's debut novel, she explores an Eat Pray Love type of story about a young woman in a tough relationship and a dead-end job. She bravely leaves it all behind to travel the world and find herself along the way.
---
The Sun in Your Eyes by Deborah Shapiro $20.35
Shapiro has received great praise for this fiction story which delves into the complexity of female relationships. The story follows Viv and Lee's friendship as they journey into adulthood.
---
The Nest by Cynthia D'Aprix Sweeney $16.19
As four siblings who have struggled throughout their lives, they've been looking forward to, and counting on, the money from their joint trust fund to solve their problems. However, one sibling puts that all into jeopardy when he's involved in a reckless car accident.
---
The House of Bradbury by Nicole Meier $10.83
Mia Gladwell is an author who is single, unemployed, and just can't seem to get things going in the right direction. But when a famous author's house is up for sale, she snatches it up in hopes of soaking in some inspiration that may have been left behind in her new residence. Once she's there, however, things seem to be going in a another direction.
---
Tuesday Nights in 1980 by Molly Prentiss $16.82
This novel is a look back to the '80s when New York served as the playground for writers and artists looking to make it big. This ever-evolving art scene serves as the meeting place for a critic, an artist, and a driven young woman who all find themselves in the Big Apple.
xx, The FabFitFun Team