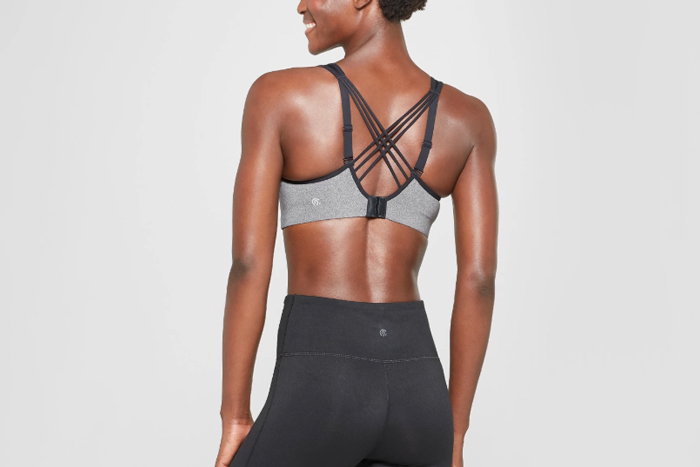 Feature Image by Target
Compression sports bras, criss-cross backs, and extreme-impact underwires – not all sports bras are the same. So to help you maximize your sweat sesh and ensure that the ladies are nicely supported, we're highlighting the sports bra you should wear for every workout below.
Yoga
The plight of every yogi is finding a sports bra that's just as flexible as they are. That's where this sports bra comes in – it features a patented high-tech fabric that's soft to touch while offering maximum breathability.
---
Low-Impact Workout
If you do most of your workouts in your living room, you're in luck because some of the cutest sports bras are made for low-impact workouts. While the front strappy details are cute, it's the lace back that really takes the cake on this one.
---
Walking or Jogging
The next time you go for a brisk walk or a light jog, reach for this sports bra as compression bras are meant to flatten breasts against your chest to minimize breast movement while you work out.
---
Cross-Training and HIIT
For the ladies who take a stab at more intense workouts, this sports bra has wireless motion control cups to stop your breasts from bouncing and adjustable straps for a seamless fit.
---
High-Impact Workout
Similar to your everyday bras, encapsulation sports bras individually support each breast, making it effective for high-impact workouts. Every feature of this bra, right down to the seams, are created to give you the best support possible so you can focus on beating your personal record.
---
Pilates
Don't underestimate the simplicity of this sports bra. Created with Beyond Yoga's environmentally-friendly Compression Lux fabric, it provides a light, tight, and flattering fit.
---
Indoor Cycling
Leave it up to one of the biggest indoor cycling studios in the country to make a pretty good sports bra. From the removable pads to the criss-cross detailing along the front and back, you can walk into your next spin class assured that the ladies are fully supported.
---
Dance Cardio
Since dance cardio can be both a low-impact or high-impact workout, a well-rounded sports bra like this is your best bet. Like any standard sports bra, it features an adjustable, strappy design for a natural range of motion.
xx, The FabFitFun Team