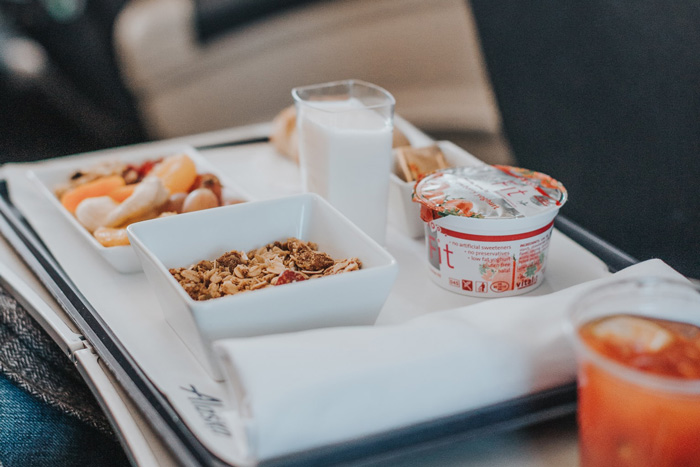 Feature Image by Toni Osmundson
Snacks are a necessity for a long flight, but you don't want to eat any food that's going to make you feel worse than when you took off, that's going to spoil, or is hard to transport. You want foods that are going to keep you full and satisfied.
It's tempting to stock up on potato chips and bags of candy at the convenience store by your gate, but you're going to be better off going for some more nutritious alternatives. Here are the best snacks for a long flight, according to nutritionists.
Peanut butter and jelly
You don't have to be a kid to enjoy this classic comfort food. "It may not be the most glamorous snack, but a good old fashioned PB&J is great for a long flight," says registered dietitian nutritionist Megan Casper. "Up your game by spreading a fun jam and nut butter on some whole grain bread." Peanut and nut butters have protein, which can help keep you full during a long flight. Plus, this combo keeps well without refrigeration.
Trail mix
"Nuts are a great way to get sustainable energy, which is important when you're on a flight with limited food options," says registered dietitian Mandy Enright. "Adding in some dried fruit can not only add sweetness but also fiber to the mix, which is great for controlling hunger levels. Not only do you not want to be hungry on a flight, but you also don't want to land starving, which can lead to making less than optimal food choices."
Oatmeal cup
If you're taking a morning flight, an oatmeal cup is a good option since all you need to do is get some hot water, which your flight attendant can provide for you. "Oatmeal is another easy-to-digest meal that can help calm your stomach on long flights," says registered dietitian Carrie Walder. "Brands like Bob's Red Mill and Nature's Path sell individual oatmeal cups that you can pack with you. To make it a bit more filling, feel free to add a nut butter packet or a sprinkle of nuts to the oatmeal as well."
Jerky
Since protein is important to help sustain hunger levels, packing some jerky strips can be life-saving on a lengthy flight. Look for brands with minimal ingredients that are free of added sugar and lower in salt. "The chewy texture of jerky slows down how quickly we eat it, which means you're less likely to wolf a bag down before takeoff," says Enright.
String cheese and veggies
Combining string cheese with some veggies will provide you with much-needed nutrients on your long journey, and they're easy to travel with. "String cheese is safe for at least 12 hours unrefrigerated and is satisfying due to the protein content," says registered dietitian Sarah Mirkin. "Have it with fruit or veggies to help hydrate you on a long flight and fill you up. Great raw veggie choices include grape tomatoes, cucumbers, carrots, baby bell peppers, and sugar snap peas."
xx, The FabFitFun Team