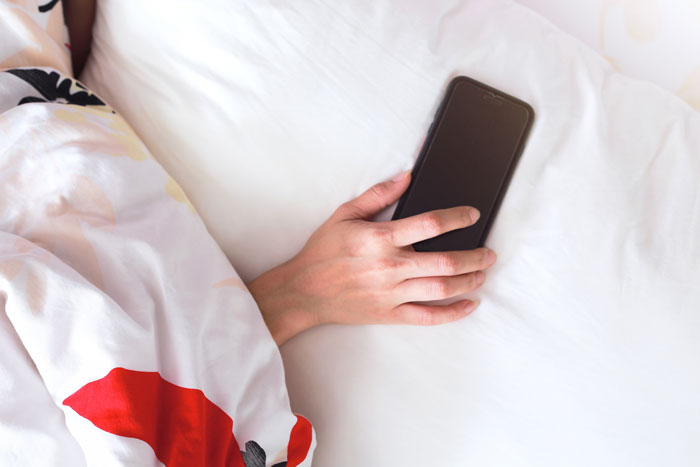 Turns out, you don't have to put your phone away come bedtime. No, we're not suggesting you mindlessly scroll through your Instagram or Facebook feed. Instead, try a sleep app to help you relax and unwind before you hit the hay.
Here are 10 apps that are specifically designed to slow your mind and help you get more restful sleep.
PureMind: Meditation & Sounds
This meditation app offers goal-based meditation courses, relaxing sounds, color therapy, and more to help you de-stress and relax.
Sleep Cycle Alarm Clock
If you wake up feeling tired, use this app to calculate when you should get up. Simply set your alarm, and the app will analyze when you're in a light sleep to gently wake you up. It can even share your sleep statistics to your Apple watch.
Relax Melodies P: Sleep Sounds
Fall into a deep sleep with a relaxing soundtrack in the background. This app has 52 different soothing sounds that you can listen to on its own or layer on top of each other for a sound that's best suited for you.
Calm
Calm helps you set up a meditation routine to gain the most benefits. You also get access to over 80 Sleep Stories to help you drift off into slumber more quickly.
Pillow: Smart Sleep Tracking
This app has a ton of different options to help you rest. Not only does it track your sleep cycle to help you make changes, but it also records sounds that might be waking you up!
Slumber: Fall Asleep, Insomnia
Bedtime story, anyone? This app has sleep stories to help you snooze, and it even has background noises like a fan or a snowstorm to help you create the perfect sleep atmosphere.
Alarmy – Alarm Clock
If you're notorious for hitting the snooze button, download this app. Alarmy gives you a set of tasks to complete (like taking a picture or solving a puzzle) before the alarm turns off.
Sleep Well Hypnosis
In addition to playing background noises, this app uses hypnosis to calm your mind. It also has a sleep booster feature, which involves binaural beats to help your brainwaves enter deep sleep mode.
Headspace: Meditation
All you need is a few minutes with Headspace for better rest. While it does have some sleep sounds, it's really the sleep meditations that are the main focus here. There are even sleep meditations for kids who get fussy come bedtime!i
Simple Habit – Meditation
As seen on Shark Tank, this app features short meditations led by some of the world's most influential wellness gurus. You can relieve stress and improve focus in just five minutes!
xx, The FabFitFun Team