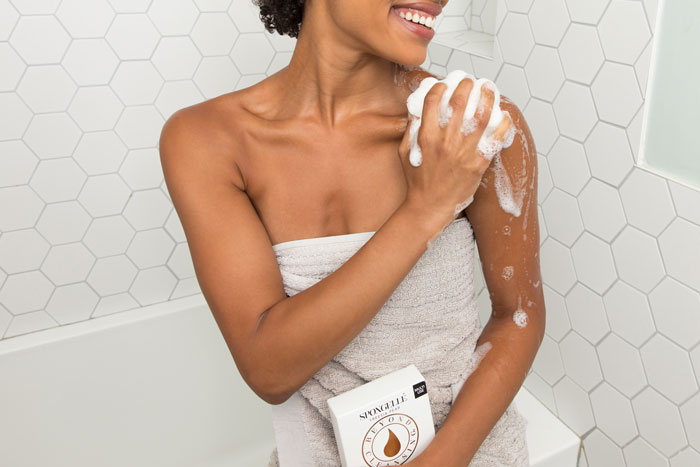 FALL 2018 EDITOR'S BOX PARTNER
If you know us, then you know how much we emphasize the importance of self-care. That's why we're encouraging you to do even more for yourself this month – whether you treat yourself to a relaxing bath or take a break from your phone.
Not sure where to start? Check out our favorite self-love practices below:
Rinse your skin
Self-care is the first step to self-love, and nothing will make you more refreshed than an at-home facial. The ELEMIS Papaya Enzyme Peel is made with natural fruit enzymes like exfoliating papaya and calming pineapple to smooth and clarify the complexion, milk protein, antioxidant-rich vitamin E, and marine algae to moisturize, repair, and protect the skin. You'll feel good as new!
Take a hot bath
Whether you're stressed out from work or sore from a hard workout, everyone needs to detox sometimes. Accented with the calming scent of eucalyptus, the Cuccio Somatology yogahhh! Detox Bath helps soothe muscles while relaxing your mind, body, and soul.
Get dolled up…just because
Use the Crown Brush 6 Piece Brush Set to apply your favorite makeup look The 100 percent synthetic brushes feature a pro grip handle for easy application, so you'll have no trouble sprucing yourself up (because sometimes all you need is a little reminder of how beautiful you really are!).
Get a manicure
There's nothing like getting a fresh manicure to feel pampered. Once your nails are done, add a cute ring to top off the whole look like the ERTH TU Y YO Ring, which is made of two naturally-cultured freshwater pearls. Maybe even treat yourself to a pedicure too — you deserve it.
Cleanse your skin
We're not just talking about the skin on your face — use the Spongellé Body Buffer in Freesia Pear the next time you take a shower. The body wash infused buffer works to cleanse, moisturize, rejuvenate, and restore the skin from neck to toe. Not only will you smell amazing, but you'll feel even better, which is why taking care of your body's skin is a self-care practice you don't want to skip.
Sleep in
Getting enough sleep is so important for both your mental and physical health, so turn off your alarm this weekend and enjoy a late morning in bed. The Free People x Understated Leather Starry Eyed Travel Eye Mask is perfect for those sleepy mornings as the soft 100 percent vegan leather and adjustable strap provide optimal comfort and the non-toxic cooling insert offers ultimate relaxation.
Do a face mask
Pamper yourself with the GLAMGLOW® BUBBLESHEET™ OXYGENATING DEEP CLEANSE MASK to instantly invigorate and detoxify the skin in just three minutes thanks to the bamboo charcoal-infused formula. Making the time to take care of yourself is crucial to your own happiness, and you'll never have to sacrifice that little bit of "me" time again.
Make time for something you love
Between work, errands, and weekly house chores, it's easy to get caught up in your busy schedule. However, setting aside time to do something you're passionate about will seriously boost your mood — whether it's picking back up an old hobby, taking a weekly yoga class, or spending more time with family.
Take a break from social media
When constantly being on your phone scrolling through your social media feeds, it's hard not to compare yourself to the seemingly perfect lives of Instagram models and Youtube bloggers, which can take a toll on your confidence. So put your phone down and delete your social media apps for a week, or even a day, to take a step back and live in the moment.
Give yourself a compliment and mean it
You owe yourself the same amount of kindness you give to others. Take a moment to think about all the things you love most about yourself, and remind yourself of it throughout the day.
xx, The FabFitFun Team
Psst! Have you signed up for FabFitFun yet? Don't miss out on $200+ in amazing beauty, fitness, fashion, and lifestyle products, access to exclusive fitness and cooking content on FabFitFunTV, members-only sales, and more. Join today!
To get the most out of your box products, make sure to check out the Insider page.