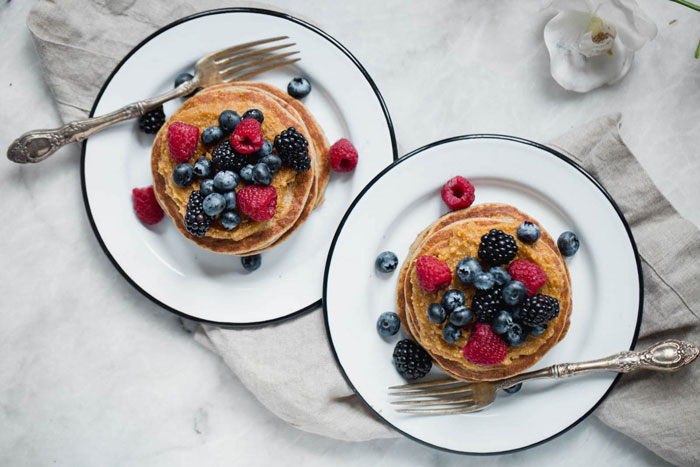 Feature Image by ambitiouskitchen.com
We're well into 2018 and if you're still going strong on your New Year's resolution to exercise regularly…hooray! Now that you've got a workout regimen down, you probably want to get your eating habits in check, too.
If you're in search of a post-gym bite that's equal parts healthy and yummy, look no further than these 10 snacks.
Medjool dates and unsalted almond butter give this classic snack food a unique twist. Satisfy both your savory and sweet tooth with this hybrid recipe on FabFitFunTV (if you're not a member yet, sign up today to access this recipe plus tons more cooking videos!).
---
Can protein bars really taste like candy?! Inspired by Reese's Peanut Butter Cups, these delicious bars combine nut butter (any kind you like), flaxseed meal, and dark chocolate for a wonderfully easy yet tasty treat.
---
If you've never been a fan of green smoothies — trust us, you'll like this one. The avocado gives it a nice creamy consistency and the banana integrates a hint of necessary sweetness.
---
Protein is key to taming those inevitable hunger pangs that come post-workout. These decadent pancakes incorporate cottage cheese for added protein while still being guilt-free.
---
The benefits of coconuts are endless. Not only are they incredibly healthy, but they're also super filling and satisfying. A hint of pecans adds a necessary crunch to this quick and portable snack that we just can't get enough of.
---
If you've got a snacking habit, you know there's nothing like a good ol' bag of chips. These fiery roasted chickpeas are the perfect alternative to greasy potato chips when you're in the mood for something salty and crunchy.
---
If a long strenuous workout has you craving some frozen yogurt, you'll be obsessed with these fro-yo bites. This recipe uses real fruit for added texture, and the bite-sized portions are perfect for snacking.
---
Avocados are still having a moment in the spotlight, and for good reason (it's delicious, duh). This snack idea combines fresh avocados, mozzarella balls, and a balsamic glaze — perfectly mixing savory and sweet.
---
Everyone knows that dried fruit is nature's candy. Satisfy your sweet tooth with these chocolate trail bites infused with healthy fats. After all, you deserve a reward after that long sweat sesh.
---
Who says couscous is just for dinner? The almonds, cinnamon, and honey totally make this dish snack-worthy. Plus, it's super hearty, which is just what you need post-gym.
xx, The FabFitFun Team