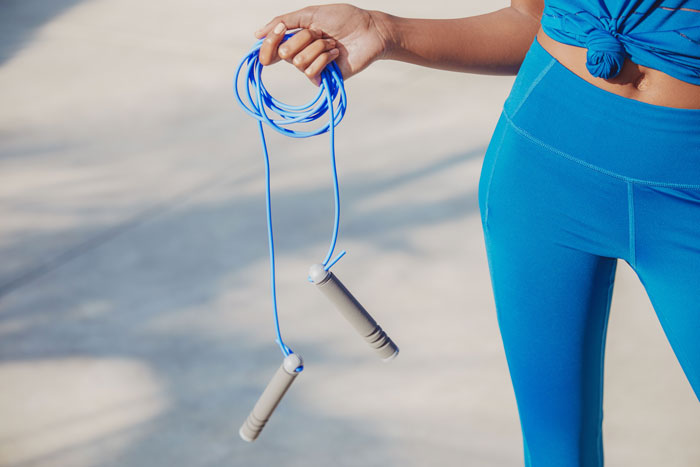 SPRING 2019 BOX PARTNER
If you didn't appreciate jump roping during gym class, it might be time to reconsider this overlooked fitness tool.
Jump roping is a great way to increase your heart rate while strengthening your core, quads, and calf muscles. Who knew a simple rope could help you get in shape and amp up your workouts?
Our favorite is the EleVen by Venus Jump Rope from Venus Williams' activewear line. The blue jump rope features foam handles for comfort and it can be used for a heart-pumping cardio routine, a pre-warm up activity, or as a workout in between intervals during a kickboxing workout. Yep, this workout tool is incredibly versatile.
Still not convinced? We asked four fitness experts to share why they're advocates of jump roping.
Works out the entire body
A single fitness tool that can work out the entire body? We're game. "It works the muscles in your shoulders, arms, back, core, and legs simultaneously. There's a reason professional fighters, the most highly conditioned athletes in the world, make jumping rope an integral part of their training! If it's good enough for them, it's good enough for all of us," says Jonathan Aluzas, NASM Certified Personal Trainer and owner of Arena Fitness.
Burns a lot of fat
Your standard cardio workout helps you burn a lot of calories, but jump roping can help you burn fat a lot quicker. "You can burn fat faster than you can with other forms of cardio, burning up to 1,300 calories per hour, which equals almost 30% of one pound of fat," explains Ryan Read, a certified personal trainer at Thrive Specialized Training.
Increases ankle strength and improves bone density
Have your ankles ever felt weak after working out? Jump roping might be a great solution to help improve bone density. Scotty, conditioning specialist and founder of Plant Based Scotty says, "Our bone density peaks at age 30, and continues to drop for the rest of our lives. Impact activities like jump roping help slow that decline and actually build stronger bones. Increased ankle strength causes all kinds of positive effects. Any other activity that you use your feet for becomes more efficient. You walk better, exercise better, and live better."
Helps develop coordination
Not only does it help with your physical well-being, but it also encourages you to exercise your brain. "Another great benefit of jumping rope is that it improves your eye-hand coordination. This then becomes a cognitive workout that uses your brain. Keeping our minds sharp will help us create a strong body as they go hand in hand," explains Cary Williams, an Olympic level coach and CEO of Boxing & Barbells.
xx, The FabFitFun Team
Psst! Have you signed up for FabFitFun yet? Don't miss out on $200+ in amazing beauty, fitness, fashion, and lifestyle products, access to exclusive fitness and cooking content on FabFitFunTV, members-only sales, and more. Join today!
To get the most out of your box products, make sure to check out the Insider page.