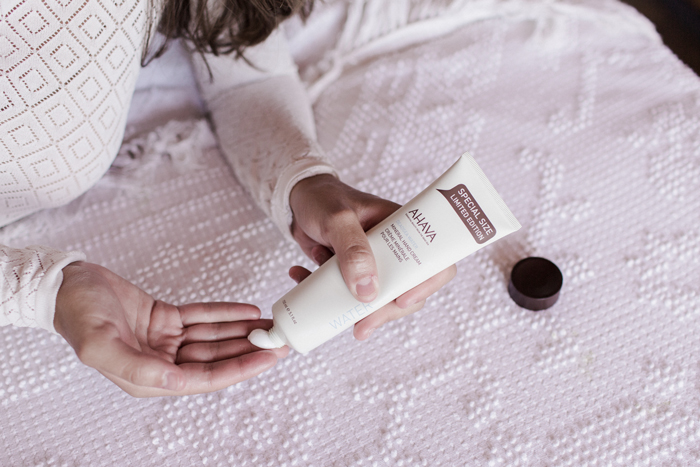 WINTER 2017 BOX PARTNER
If your goal is to glow in 2018, we know exactly what you need to do. Pick one, two, or a few of these beauty resolutions to make sure that you and your skin have the best year ever. Plus, these are so fun and easy that you'll actually want to stick to them.
Exfoliate once or twice a week
New year, new skin! Improve cell turnover by using your Kate Somerville ExfoliKate® Intensive Exfoliating Treatment every two to three days to reveal dramatically smoother, brighter, healthier-looking skin. (No more than that, though! Over-exfoliating can cause dry patches and breakouts.
Make sleep a priority
Did you know that when you sleep your skin cells repair damage and remove toxins? To improve sleep, stick to your bedtime ritual. We like to slowly sip a mug of chamomile tea, slip on our Pointe Studio Aloe Infused Cozy Socks, and spritz our pillow with This Works Deep Sleep Pillow Spray before we hit the hay.
Try multi-tasking
Designate one night a week to give your hair a little TLC and treat your tresses to a deep repair treatment with the Nelson j Beverly Hills Moisture Healing Hair Mask. While letting your hair set, apply the Grace & Stella Anti-Wrinkle + Energizing Eye Masks to de-puff and revitalize the delicate skin around your eyes. Want to take it to the next level? Apply a sheet mask to your face right over the eye masks. You may look a little funny now, but you'll be glowing later!
Use a hand cream every day and night
Your hands are the first part of your body to show signs of aging. Restore moisture daily with your AHAVA Mineral Hand Cream, proven to protect, nourish, and rejuvenate the skin.
Try a new makeup look once a month
It's easy to get into our same ol' routine and signature look, but what's the fun in that?! Experiment with new, bold makeup looks using the DOUCCE Freematic Eyeshadow Pro Palette. Apply the shadows dry for a more natural finish or wet your brush first for a more dramatic look.
Incorporate beauty foods into your diet
Avocados, pomegranates, and tomatoes — oh my! Not only are these ingredients super tasty, they also have amazing benefits for your skin. Walnuts, eggs, dark leafy greens, and maca root are just a few more foods that your skin will thank you for.
Use more cruelty-free products
You know that cute little bunny symbol you've been seeing on your beauty product packaging? That means it's cruelty-free! We included three beauty products in your box (from DOUCCE, AHAVA, and Grace & Stella) that are all animal-friendly.
xx, The FabFitFun Team
P.S. Psst! Have you signed up for the #FabFitFun box yet? Don't miss out on $200+ in amazing beauty, fitness, fashion, and lifestyle products every season. Join today!
To get the most out of your box products, make sure to check out the Insider page.