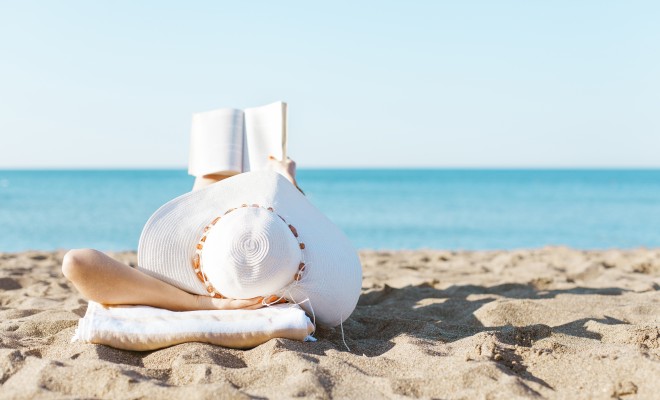 As much as we love getting lost in a good book, it can be difficult to find time for pleasure reading due to work, errands, and, well, just life.
So the next time you're at the beach, catch up on that book that's been sitting on your desk or check out our beach reading list below. We rounded up reads that are perfect for days spent at the beach while you soak in that vitamin D.
"The Arrangement" by Sarah Dunn
This story is equally funny as it is emotional and follows a couple who decides to give open marriage a shot. Will they maintain this open marriage or will it just end in failure?
---
"Party Girls Die in Pearls" by Plum Sykes
If you loved Plum Sykes' "The Debutante Divorce," then you'll love this one. It's a murder mystery that takes readers back to the '80s where a murder just took place at Oxford University.
---
"Pretty Girls" by Karin Slaughter
This page-turner is more intense than it seems (borderline disturbing). The story follows three sisters — Claire is married to an Atlanta millionaire, Lydia is dating an ex-convict, and Julia went missing decades ago. But when Claire's husband is murdered, they start digging through their pasts, including Julia's.
---
"All the Missing Girls" by Megan Miranda
Up for a thriller? Nic's best friend Corinne went missing 10 years ago from her hometown. When Nic returns to take care of her ailing father, another girl that resembles also Corinne goes missing. Is it up to Nic to figure out what happened?
---
"Into the Water" by Paula Hawkins
Whether you read "The Girl on the Train" or watched it at the movies, you'll want to open up another one of Hawkins' novels. When bodies start turning up dead at the bottom of the river that runs through town, long lost secrets start to come out.
---
"How to Murder Your Life" by Cat Marnell
Set in the world of fashion and parties, drug addiction and self-sabotage are at the center of this memoir. Written by Cat Marnell, who was the beauty editor of Lucky at 26-years-old, you'll get a behind-the-scenes peek at what seems like a glamorous life.
---
"It Happens in the Hamptons" by Holly Peterson
Hamptons…need we say more? A single mother goes across the country to spend time in the Hamptons with her new lover, but discovers a whole lot more than she bargained for.
---
"I'll Eat When I'm Dead" by Barbara Bourland
Many women feel pressure to be thin, but what happens when that pressure goes too far? A woman is found dead in her office and it's assumed that extreme dieting was the cause — but was it something more?
---
"Opening Belle" by Maureen Sherry
If you're looking for a smart and funny novel, then this one's your best bet. It details the life of a female Wall Street executive, as she balances her job, motherhood, and being a wife.
---
"The Singles Game" by Lauren Weisberger
After "The Devil Wears Prada," we couldn't wait to read another one of Lauren Weisberger's novels. Similarly, this one also follows Charlie Silver who slowly loses herself to a world of glamorous parties and Hollywood royalty. Will she find her way back before it's too late?
xx, The FabFitFun Team