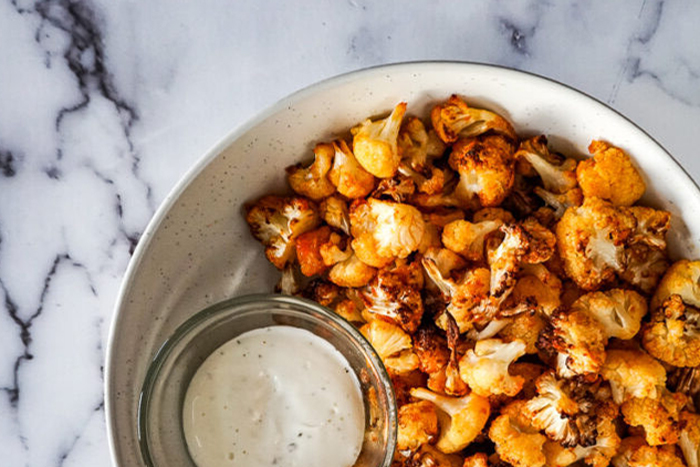 Feature Image by cravethegood.com
As we throw on our crewnecks, pull up our blankets, and settle in for a season of crisp breezes, football evenings, and family dinners, it's good to have the meals to match. When soup gets a little old and the oven feels like a task, try making one of these 10 air fryer recipes to cozy up on chilly days.

Bring the warmth of Indian cuisine to your kitchen with these gorgeous puff pastries filled with vegetarian curry.
---

Maple syrup meets its match with spicy sriracha in this warm air-fried dish. Pass the cauliflower, please.
---
A little bit of chicken fried, warm waffles on a Friday night — this is a fall ode to Southern cooking and the Zac Brown Band.
---

According to Melissa Macher, a registered dietitian and creator of this recipe, "Fall is prime shellfish season." Below deck vibes and fall hors d'oeuvres? Yes, please.
---

Be the highlight of Friendsgiving with this classy take on our favorite orange veggie. Honestly, parmesan makes everything better.
---

Not to be outdone, this butternut squash brings the sweetness of maple syrup and a hint of pumpkin pie for a sweet take on a vegetable side dish.
---

This mouthwatering calamari recipe uses mini salted pretzels for an extra kick of flavor and texture.
---

Keep your protein lean, your heat high, and your food waste low with these spicy meatballs.
---

Love the finger foods but prefer plant protein? Whip up these vegan favorites to serve as an appetizer, salad topper, or throw it in a pita with a little tzatziki to punch up the flavor.
---

Just when you thought baked salmon would take the cake, this air fryer recipe for the fish favorite will make you think twice.
xx, The FabFitFun Team