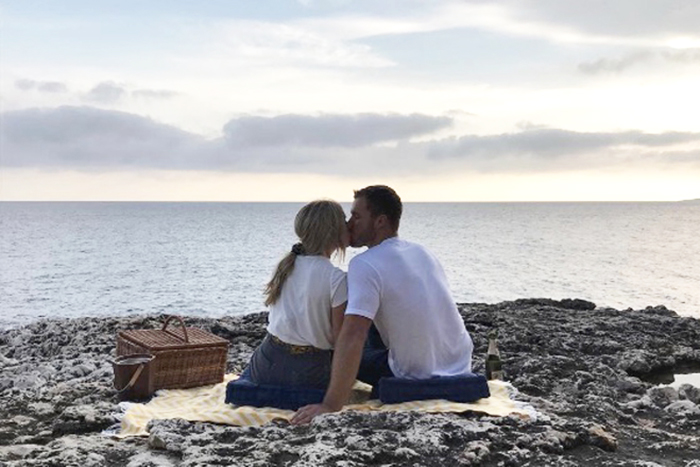 Feature Image by @cassierandolph
Colton Underwood made history on part one of The Bachelor season finale when he became the first bachelor to go from 30 women to zero. So it didn't come as a surprise when he continued to defy "the rules" and take matters into his own hands in part two of the season finale.
As you know, Cassie Randolph broke it off with Underwood because she wasn't ready to say "I do" just yet. This sent Underwood into the meltdown of the century, but he ultimately decided that she was the one and showed up at her hotel room. Randolph was shocked, to say the least, but she was even more caught off guard when he told her that he sent the other two women home.
View this post on Instagram
"[The other] two women could have given me a good life with them, and given me everything that I wanted, but it wasn't who I wanted it to be with," Underwood confessed as he pleaded for a second chance. With that, Randolph agreed to take their relationship slowly.
The next day, the couple flew to Mallorca, Spain to meet Underwood's entire family (taking it slow, remember?). Randolph was understandably hesitant as she knew she couldn't provide the romantic ending his family was hoping for their son. And, of course, the family was skeptical when they learned that Randolph had already dumped Underwood once. Randolph assured them that Underwood's confidence in their love reaffirmed her feelings for him.
View this post on Instagram
Then the two finally had their one-on-one overnight date that Randolph dipped out on the first time around. In typical The Bachelor fashion, they repelled down a seaside cliff for a romantic picnic on the beach where Randolph revealed that her resistance to relationships came from an overly controlling boyfriend she had in the past.
Underwood responded by telling her that he also believed in the importance of individuality in a relationship and that he hoped both of them would be able to follow their own passions and interests. While that was comforting for Randolph, it was still unclear whether or not she was in it for the long haul.
View this post on Instagram
Well, on the evening portion of their date, Randolph finally decided that she was all in and accepted his invitation to the Fantasy Suite, which left one very important question to be answered: Did Underwood finally lose his virginity?
For once, the bachelor got shy when discussing his personal endeavors during After the Final Rose (if you know what we mean), but the smug smile on his face said it all. "I know I've been very open and candid about my virginity, but there are two of us now in this relationship. That's something we're gonna keep to ourselves," said Underwood to Chris Harrison.
View this post on Instagram
Whatever the status of his virginity may be, Underwood and Randolph seemed extremely happy and in love. Yep, Randolph finally said that she was in love with him!
Now that the weirdest season of The Bachelor is over, it's time to find out who we'll be watching every Monday night on The Bachelorette. Any guesses?
View this post on Instagram
Hannah Brown, Alabama-bred pageant queen, is next season's bachelorette! This decision seems to be controversial among Bachelor Nation, but we think she deserves the position. Although her camera time on Underwood's season began with a petty feud between her and former frenemy and fellow pageant queen Caelynn Miller-Keyes, her funny, heartwarming personality eventually shined through, and we're excited to watch her love story unfold.
What are your thoughts on the new bachelorette? Weigh in on the comments below!
xx, The FabFitFun Team