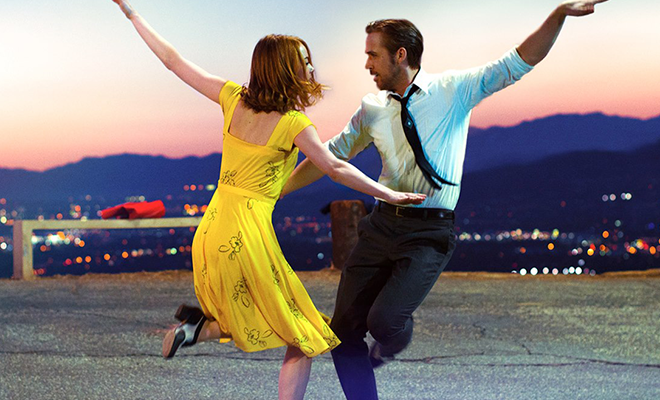 La La Land
We're smack dab in the middle of awards season…have you been keeping up to date with the big screen?
If not, no worries — because we've got you covered with the ten hottest movies you need to watch in preparation for all the nominations and awards.

20th Century Women
This movie follows the life of single mother, Dorothea Fields, and her son, Jamie in 1970s Santa Barbara. Dorothea runs a boarding house, and Jamie is a sensitive boy going through adolescence in a time of social change (as if puberty wasn't enough change already). Dorothea recruits two other strong female characters, Abbie and Julie, to help raise Jamie and guide him through this trying time. There isn't much conflict or plot, but the well-developed characters are let loose to explore life, society, and feminism.
---

Deadpool
Hollywood heartthrob Ryan Reynolds plays the foul-mouthed superhero Deadpool aka Wade Wilson. He's your average mercenary-for-hire that falls in love with an escort, Vanessa (Morena Baccarin), but after a cute love montage, he's diagnosed with cancer. To combat this, he undergoes a special type of treatment under the supervision of Ajax (pro tip: never receive medical care from someone named after a cleaning powder), who ultimately tortures and mutates him. Wade escapes and tries to kill Ajax for not only disfiguring him, but also because he kidnapped Vanessa. It's your textbook love story that satirizes the superhero genre and is sprinkled with vulgar humor.
---

Florence Foster Jenkins
Already highly-decorated, Meryl Streep is on the hunt for yet another award. Florence Foster Jenkins is based on the life of a New York debutante who has a passion for music. With the help of pianist Cosme McCoon and vocal coach Carlo Edwards, Florence resumes her music lessons. The catch: Florence is a terrible singer. Her husband, St. Clair Bayfield (Hugh Grant), convinces McCoon and Edwards to make Florence believe she is talented. With this false sense of talent, Florence ensues on a comical pursuit of music and fame.
---

Hacksaw Ridge
Hacksaw Ridge is another biographical film, which tells the tale of Desmond Doss (Andrew Garfield). Desmond is a devout Seventh-day Adventist that enlists to serve in the U.S. Army during World War II. As a medic, Desmond refuses to participate in the violence and is repeatedly tormented by his superiors and peers for his pacifistic ways. During a battle in his deployment in Okinawa, Desmond demonstrates great courage and rescues many U.S. soldiers when others left them for dead. Hacksaw Ridge vividly tells the story of Doss' battle not only against Japanese soldiers in WWII, but also against persecution.
---

Hell or High Water
Toby (Chris Pine) and Tanner (Ben Foster) Howard are two brothers that try to do the right thing by stealing money. In a Texan Robin Hood fashion, the Howard brothers rob multiple banks in order to prevent foreclosure on their late mother's ranch by paying off the mortgage. Marcus Hamilton (Jeff Bridges) is on the brink of retirement, but takes on one last case to try and hunt down the serial bank robbers. Inspired by family values and charged by desperation, Toby and Tanner fight to come up with the money, avoid the law, and keep their lives in this modern day heist film.
---

La La Land
This movie captured the hearts of many and has already received numerous award nominations. Mia (Emma Stone) is an aspiring actress and Sebastian (Ryan Gosling) plays Jazz piano. The two struggle to find success, fame, and fortune in their respective industries, but manage to find each other in the process. You can't help but fall in love with the two as they sing and dance their way towards their goals.
---

Lion
Dev Patel plays Saroo in Lion — yet another film based on a true story. Saroo is an Indian man that was adopted by a loving Australian couple 25 years ago. After a resurgence of memories, Saroo taps his mind, and Google Earth, to go back to India and rediscover his past. Lion powerfully shows one man's journey to find his family, home, and identity.
---

Manchester by the Sea
Lee Chandler (Casey Affleck) lives a quiet, tormented life as a janitor in Massachusetts. When his brother, Joe, unexpectedly passes away, Lee travels back to his hometown of Manchester-by-the-Sea to break the news to his nephew, Patrick. After attending to the funeral matters, Lee learns that Joe's will leaves him as Patrick's guardian — something that Lee is strongly against. This non-nuclear family movie evokes emotion as the mismatched uncle-nephew pair lean on each other in their times of need.
---

Moonlight
Moonlight follows Chiron as he navigates life and grows into a man. The film is separated into three different segments based on his age and identity. In the beginning, Chiron is known as "Little" due to his small size and personality. As he enters adolescence, Little becomes Chiron again, and Black as an adult. Throughout his life, the audience sees a boy become a man and the struggles with sexuality, drugs, and family.
---

Sing Street
Due to his family's financial problems, Conor transfers from his private school to a free state school in Dublin. Life is rough for the gangly Conor as he is merciless bullied by the rough student body, but things turn up when he meets Raphina, who is equal parts rebel and aspiring model. In an attempt to impress her, Conor lies and says that he's in a rock band and that they would like to hire her for their video. This musical follows Conor as he discovers his love for music and struggles to flourish in a stifling environment.
xx, The FabFitFun Team