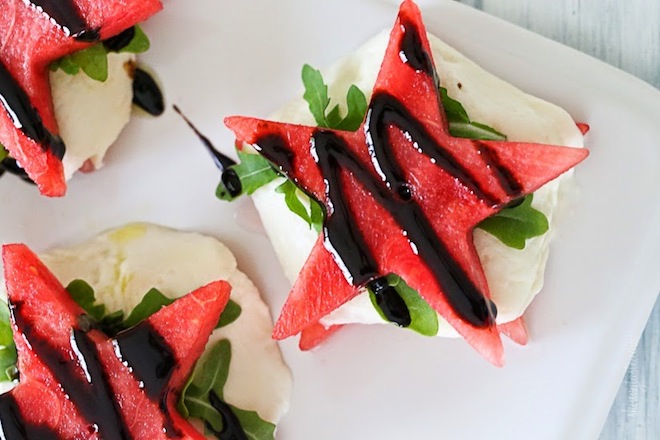 With Memorial Day weekend just around the corner, party planning is in full swing. Haven't decided on a menu for your party yet? Don't fret, we've got you covered on the appetizers.
Below you'll find some of our favorite antipasto dishes that will please the masses. Sticking with the traditional components of antipasto, these apps are meaty, cheesy, olive-y, and waiting to be devoured. Plus, they're all super easy to make!
Brown Sugar Glazed Smokies
This starter is sure to be a smash hit at your party. This savory and flavorful dish will attract fans of all ages and especially be a fave among bacon lovers.
---
Watermelon "Caprese" with Balsamic Glaze
Looking for something salty and sweet? Ditch the tomatoes and substitute in some delicious watermelon for everyone's new favorite starter. Bonus points if you cut yours into stars!
---
Fig and Prosciutto Roll Ups
Give your get together a taste of sophistication with this yummy app. These rolls are chewy, creamy, and all around delicious — plus, you only need a few ingredients!
---
Marinated Mozzarella
These balls will go fast at your Memorial Day party. This quick appetizer should be served along with a good chunk of bread to soak up the infused olive oil.
---
Spinach Crawfish Dip
Didn't make it to a crawfish boil this year? This exceptional dip will make up for it! It will replace the traditional spinach-artichoke dip and give your guests a taste of the South.
---
Tortellini Kabobs
This colorful dish is just begging to be added to your Memorial Day menu. It's a combo of tomato, mozzarella, and everyone's favorite tortellini — all on a convenient stick!
---
Olive Cheese Bread
Attention olive lovers! This delicious olive-y bread was made to go hand-in-hand with your glass of wine. Its super easy to make, and your guests will be ub-sessed with the amalgam of flavors.
---
Antipasto Skewers
You can never go wrong with skewers! This app is perfect to serve to your friends because there's so much flavor packed into one mini bite.
---
Prosciutto Wrapped Asparagus
Well, our mouths are officially watering. With just two ingredients, this is the world's easiest antipasto. Wrap everyone's fave veggie with prosciutto, then toss onto the skillet.
---
One Pan Parmesan Meatballs
Um, yum! These cheesy meatballs are savory enough to tide guests over until the main course. Plus, you can make these in just one pan, saving you the extra minutes on dishes.
xx, The FabFitFun Team