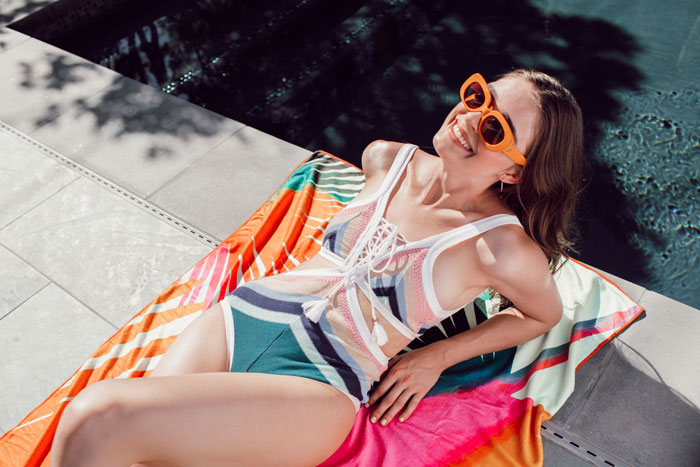 SUMMER 2018 BOX PARTNER
The sunshine is calling, the ocean waving hello, for here in summer there are many places to go! There are friends to see and margaritas to sip, sandy shores to lay your towel and pools begging for a dip. Barbecues and picnics and far off foreign lands — haven't scheduled a trip yet? We'll help make your plans.
Grab your beach bag, your passport, or your new makeup case. You stayed planted in spring, and this summer you're all over the place! Here are a few ways to make sure this season rocks — and don't forget the goodies you discovered in your Summer Box.
Head to the beach
Lather on your COOLA sunscreen, lay out your oversized Summer & Rose Beach Towel, and dive into a good book — or the ocean! Whatever floats your boat.
Hit the road
Fill your tank with gas, a weekender bag with clothes, and your Yumi Kim Makeup Train Case with travel-sized beauty and skin care products for an epic road trip.
Reunion with friends
Gather friends for a summer soirée, a wine night, or head to your old stomping grounds. And don't forget that getting ready together is half the fun! Get all dolled up with your tarte sex kitten liquid liner, or totally glow for it with the tarte tarteist™ PRO glow highlight & contour palette.
Backyard barbecue
Grill, please! Host a barbecue at your local park, the beach, or in your own backyard. And with all that fun in the sun, you'll want to protect your hair. ORLANDO PITA PLAY™ Atmos-Shield® Hair Protectant Treatment Spray saves the day — protecting from heat, humidity, pollution, and even UV rays. P.S. Need recipe ideas for your side dishes? We've got you covered on FabFitFunTV.
Take a hike
With weather this amazing, you've got to take full advantage and head outdoors for your workout of the day. Get an added burn by doing a quick circuit at the top with the Maji Sports Loop Resistance Band.
Travel abroad
The world is your playground this summer. Be sure to leave a little extra room in your luggage for souvenirs, and carry your Minor History Post Script Wallet while on your adventures to hold your cards and money.
xx, The FabFitFun Team
P.S. Psst! Have you signed up for the #FabFitFun box yet? Don't miss out on $200+ in amazing beauty, fitness, fashion, and lifestyle products every season. Join today!
To get the most out of your box products, make sure to check out the Insider page.