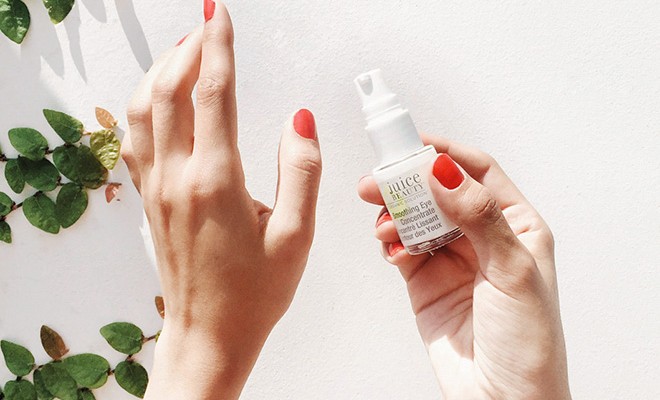 An often overlooked step in a skin care routine is an eye cream. While it may seem unnecessary to shell out a couple extra bucks for a typically small container of heavy duty moisturizer, you'd be surprised at just how essential this step actually is.
Whether you've recently been introduced to the world of skin care or you're always on the look out for the latest anti-aging products, ahead are the main reasons why you should plug in an eye cream into your daily routine.
1. Prevention is easier than treatment. Taking preventative measures couldn't be more important when it comes to fine lines and wrinkles. We recommend starting as early as your twenties to protect the thin layer of skin around your eyes…better safe than sorry!
2. It's specially formulated. No, eye cream isn't just an expensive moisturizer packed into smaller packaging. The skin around your eyes is especially delicate and constantly at work (blinking, of course), so it's usually where you'll see the first signs of aging. Eye creams are specially formulated with ingredients to keep those wrinkles at bay so it's money well spent!
3. Depuff tired eyes. If you couldn't find a reason to splurge on an eye cream, now you do. If you find yourself with swollen and puffy eyes, look for eye creams formulated with caffeine. Just like how it wakes us up from the inside, the caffeine will constrict the vessels under the eyes to reduce puffiness. Try to find an applicator with a metal tip for extra cooling effects!
4. Hydration is key. Your under eyes have very few oil glands, making it one of the driest parts of your face and it also doesn't help when you pack on foundation, concealer, and powder. Opt for eye creams with moisturizing benefits, like Juice Beauty's Smoothing Eye Concentrate (available in the FabFitFun Summer Box), which is formulated with vegetable glycerin to replenish moisture and organic jojoba, sunflower, and avocado oils to provide nutrient-rich hydration.
5. Combat dark circles. While the cause of dark under eyes varies, the ingredients used to treat it are universal. Search for collagen-plumping peptides to fight the overproduction of melanin. While eye cream may not completely banish dark circles for good, it'll noticeably brighten and lighten the area over time so you can cut back on the concealer.
xx, The FabFitFun Team
P.S. Psst! Have you signed up for the #FabFitFun box yet? Don't miss out on $200+ in amazing beauty, fitness, fashion, and lifestyle products every season. Join today!
To get the most out of your box products, make sure to check out the Insider page.